HAPPY NEW YEAR 2013 Sir Tim Bell deserves a mention and this gem from GUIDO FAWKES www.order-order.com could well line the walls of the 'Others' file.
http://orderorder.files.wordpress.com/2013/01/timbell.jpg
An early contender for the funniest quote of 2013, spinmeister Lord Bell has been musing ( http://www.managementtoday.co.uk/news/1164615/ ) on lobbying and PR:
> 'Although people constantly accuse us of being the most evil, corrupt sons of the devil, we aren't. We are actually the most truthful people in the world, because we know that the truth works.'
Rewind back to November 1977 though and Tim Bell himself claims that he was not telling the truth after he was charged with "wilfully, openly, lewdly and obscenely" exposing himself "with intent to insult a female" under Section 4 of the 1824 Vagrancy Act. He was found guilty and fined £50 by Hampstead Magistrates Court after a solo erotic incident visible at his bathroom window.
According to his biographer Mark Hollingsworth, Bell "admitted the conviction but denied that the event took place. He confided to a colleague that his lawyers, Butcher Brooks and Co. advised him to plead guilty to avoid a scandal." Was he guilty - as he claimed - or not? Is that "how the truth works"?
Add a comment to this post: http://order-order.com/2013/01/02/bell-does-not-have-the-ring-of-truth/ #respond
Max Clifford tells us

in his book "Read All About It"

that he took extra care to make clear that underage girls were never allowed at his infamous sex parties. According to Clifford:
"The parties initially took place about once a month, then weekly. I became the ringmaster, a role I like to have in many aspects of life, and particularly when I'm in the middle of big stories. The parties became my circus and various people performed in different ways. I didn't allow drugs to be taken or anyone underage to come… Although what I've done is certainly immoral, sexual procuring has never bothered me as long as the people involved have been old enough to know what they're doing."
Courtesy GUIDO FAWKES www.order-order.com
Breaking:

Did this original CDUCK story on the BBC VT Christmas Tape spark off Max 'Yewtree' enquiry? Judge for yourself, click the link.
+++ Latest December 6th 2012 21:15hrs Max Clifford, having spent all day being questioned by the Met Police, with required breaks, and this evening released on police bail made a short statement on the steps of Londons' Belgravia Police Station +++
+++ "These allegations are damaging and totally untrue, on a personal level very distressing to my wife and family. Anyone who knows me, would know they are untrue".
Reporters asked: How old are these allegations Max ? He responded 1977." +++
Max Clifford:
Allegations relate to 1977 Mr Clifford confirmed
Max Clifford, Press Agent, and serial self publicist who claims to be a leading public relations expert, has been arrested in a dawn raid at his home, by detectives investigating historic sex offences. Mr Clifford was arrested by the Met Police officers as part of Operation Yewtree.
Max spills the beans on radio with James Whale....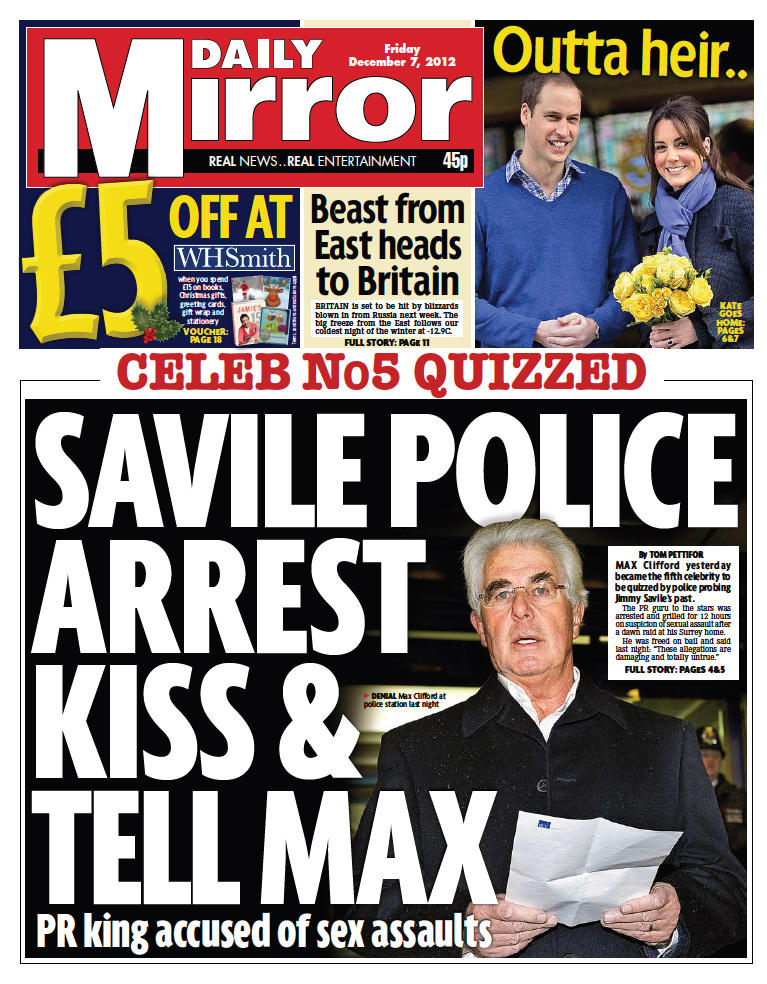 Scotland Yard earlier said officers had arrested a man in his 60s "on suspicion of sexual offences" and had taken him to a Central London police station. Max Clifford is the the sixth person to be questioned as part of the operation.
Police launched Operation Yewtree to investigate historic allegations of sex offences after revelations that the late Sir Jimmy Savile had abused young people during his broadcasting career.
Operation Yewtree has three strands.
One is looking specifically at the actions of Sir Jimmy Savile, the second strand concerns allegations against "Savile and others". The separate third strand relates to alleged complaints against other people unconnected to the Sir Jimmy Savile investigations.
Scotland Yard said the man arrested on Thursday morning had been arrested as part of this last separate category of the operation.
Mr Clifford was arrested at this Surrey home at 07:40 GMT and taken to a central London police station.
Five people have now been arrested and a sixth has been questioned as part of the Met's Yewtree investigations.
Contributor: Media Expert, Aviation, Politics & Travel Commentator, Broadcaster & Journalist Julian Bray NUJ, EQUITY UK Landline: 01733 345581 Mobile: 07944 217476 ISDN2 +44(0)1733 555 319 (UK HOME ISDN 01733 555319) G722/APT-X Dual Codecs SKYPE: JULIAN.BRAY.UK