As I'm reporting into a variety of international TV and Radio Networks, and the dynamics of this incident is changing almost by the hour I would direct you to the BBC and CNN websites for the latest developments. When the messages are clearer I'll update this blog but in the interim period, will put up brief notes from time to time.
LUFTHANSA Germanwings flight
#
4U9525
(registration D-AIPX) was lost at 6800 feet at 09.39 ECT. en route Barcelona to Dusseldorf
Airbus A320 CRASHED 9:39am CET near Digne Les Bains, French Sourthern Alps. 144 passenger plus 2 Pilots 4 Cabin crew. French Police in Helicopter search report wreckage spotted at 11am CET
DEVELOPING STORY WILL BE UPDATED and follow my news on major Radio & TV networks
Note all comments are pure speculation until official report issued
European carriers change cockpit rules after Alps crash
Major European
airlines
urge to introduce rules insisting two crew members are always in a plane cockpit after investigators said a German pilot deliberately plunged an
Airbus
A320 into a mountain, killing all 150 people on board.
The decision was supported by Norwegian Air, Monarch, easyJet, Virgin Atlantic and Thomas Cook airlines.
Airlines including Lufthansa, Air Canada and Air Berlin also said within hours that they had introduced a requirement that two crew members be in the cockpit during the flight.
The United States already requires two crew members to be in the cabin at all times, but many other countries do not, allowing pilots to leave the flight deck, for example to use the toilet, as long as one pilot is at the controls.
The co-pilot of Germanwings liner forced the plane into the descent that led to the disaster, the Marseille public prosecutor said, after locking the captain out of the cockpit. "It was a voluntary action," said the prosecutor, Brice Robin.
The idea that pilots themselves could be a danger creates reason to re-examine such policies, concluded retired French crash investigator Alain Bouillard.
GERMAN CO PILOT, AGE 28, DELIBERATELY ALTERED ALTITUDE OF PLANE WHILST PILOT LOCKED OUTSIDE 'CO-PILOT DELIBERATELY WANTED TO DESTROY PLANE NEWS CONFERENCE IN PROGRESS...
The crash of the Germanwings airbus a320 in the French Alps that killed 150 people happened because the co-pilot crashed the jet deliberately, the prosecutor in France heading the criminal investigation said on Tuesday.
THURSDAY 26th March 10 am : A flurry of overnight news with the astonishing claim in the New York Times and now carried by the AFP French news agency that someone has actually heard the contents of the black box cockpit audio tape.
The story is that one of the pilots left the flight deck and the door locked behind him; on returning he cannot get back in. Starts knocking on the door then bangs frantically "You can hear that he is trying to smash the door down"... more than that we do not know.
The second 'Dayglo' Orange, 'black box' casing has now been found but not the Databank core, which is still missing.
Another story (all pure speculation you understand) is that due to a bird strike or object hitting the flight deck windscreen it cracked blew out and rapid depressurisation started, eventually knocking out the pilot or pilots.
Hence the controlled descent... so stay with the angle of attack theory (nose up or nose down) it could be our old friend the external frozen peito tube an external airspeed indicator, the list is endless.... The BA Heathrow Airoprt incident when the incoming aircraft bunny hopped the perimeter fence as both engines cut out at the same time, fuel lines both froze, that aircraft had returned overflying frozen mountain ranges.. the list is endless but all pure speculation...until the black box secrets are revealed...
Meanwhile the recovery operation is moving ahead and so is the CRIMINAL investigation. 14 Magistrates and 200 police have been allocated and helicoptered into the debris zone any death in France is automatically treated as a criminal investigation.
more follows
WEDNESDAY LATEST 25th March 12:30pm : The French are known for being very direct and the breaking news that large CRIMINAL investigation teams are being helicoptered in to the debris field means that rather than closing down speculation, its just been hyped up to a new level.
Media teams have been moved back some five miles but against this, the latest close up video feeds have been freely distributed, which to an old cynic like me, suggests the authorities are softening up all of us, for a major development.
Normally a 'cordon sanitaire' would have been immediately imposed keeping news helicopters and trophy hunters out of the investigation area.
Then there is the claim by the French President at the outset that no survivors would be found, how on earth would he know that? Unless he had some information he's not sharing with us?
Mirage Jet Fighters scrambled too....
Accepting that the A320 after its 8 minute 'controlled descent' is at a slightly reduced cruising speed, the impact with the side of a mountain would cause the plane to fold in on itself, crumple if you like, shredding all in its path but even so you would expect the tail section to remain or large panels such as doors to remain intact. The spatial distribution of the particulate debris, also flags up the contrast of the recent Malaysian Aircraft incidents. Imagine all that shredded debris, floating on the surface of the ocean, how big a marker do you need? So did that aircraft make a soft landing after all?
There is now TV News video evidence of substantial landslip and heave, with topsoil and vegetation now covering much of the debris. What looks like part of a side section is visible in some video reports, and the confusion over the black boxes (was it data or voice recovered) and how can a device designed to withstand extreme impact be 'damaged' so possibly data extracted might not be complete....
The same cannot be said for the voice recorder, and within a few minutes all will be clear once the recordings from solid state memory banks are released and we can all listen to them hopefully unredacted.
But we now hear it'll take days for a simple report on content and MONTHS for the full report on the black box audio. TV images show the Voice unit and to the casual eye the memory card stack looks to be intact just the location pinger and 30 day battery section crumpled and twisted sideways.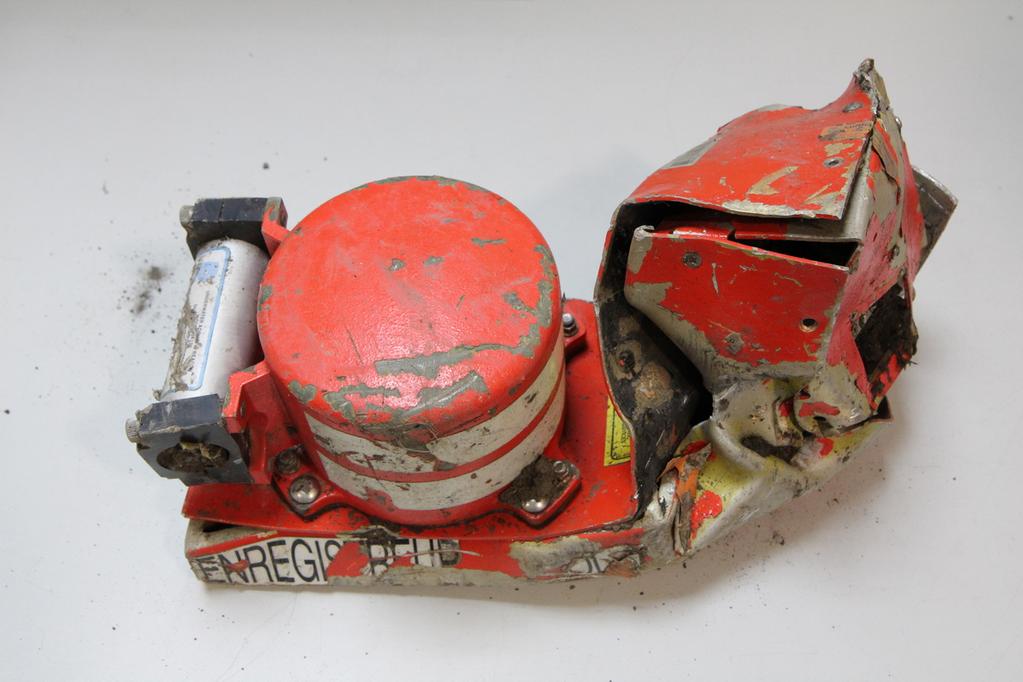 My contribution on the Jeremy Vine Show BBC Radio 2, (which of course, the timing resulted in the audience for the last PMQ's being substantially reduced... sorry) covered the little known condition 'fixation fatigue' the medical stress syndrome where something out of the ordinary or unexpected first has to be rectified at expense of all other actions. The trauma is also known in some circles as 'situational awareness' we'll leave the boffins to decide the term we eventually use.
Meaning that the secondary action becomes the sole focus of those professionals involved. I alluded to a form of this when I suggested on BBC London to Penny Smith early this morning, that perhaps the two pilots where engrossed in fixing something and didn't physically look up and out of the window, until it was too late.
Or were the crew incapacitated in any way, only time and black boxes will tell. Or put another way, how engrossed do people get in video games, shutting out all other 'noises'?
The aircraft although 'born' 24 years ago being one of the new generation 'fly by wire' aircraft it has a computer style game handle to the left of the seat. New generation pilots are trained accordingly but perhaps the six monthly simulator sessions for commercial pilots should be increased to every three months?
They should also ideally have practical sessions in vintage aircraft, literally getting back to basics
instructors can gauge social interaction, dealing with a non digital set of parameters...just an idea..
We should also demand as a condition of landing, real time streaming of flight deck chatter and data streams from key components. The black boxes usually housed in the tail section should also have an "eject if upset" mechanism so they can float down on a parachute.
Military aircraft already have this, so no excuse. WE LIVE IN DANGEROUS TIMES so we must all act accordingly. This is what I said way back in 2011
The TV news reports talk of 'bodies being recovered,' I'd suggest like the Fixborough disaster in the UK, the best they can hope for is body parts, as DNA swabs are already being taken from grieving relatives.
We should also spare a thought for those relatives being flown out to the crash site. Frankly I would have put them on a bus or train, putting them through an airport process so soon after the event, just seems wrong, even if it is expedient.
Better still put them on a chartered cruise ship, so counselling services can be applied and the arrival timed, say a week, after the main recovery programme is well advanced, and human remains removed.
---------------------------------------------
Julian Bray writes: NO SURVIVORS says French President Hollande SEARCH & RESCUE TEAMS deployed.
Lufhansa Press Conference 2pm they have not given up on finding survivors. Agencies report its a 'localised' crash ie probably airframe broke up on impact with ground rather than in flight, catastrophic failure in flight not ruled out
Speculation: It looks like a catastrophic incident in flight, as no evidence on tracking sites aircraft was turning around or deviated off airways route. Controlled descent so did not 'just fall out of the sky'.
An act of terrorism act at this stage cannot be ruled out.
Latest video shows particulate wreckage in a series of gulleys looks as if the aircraft flew head on into tip of mountain at speed then broke up and large pieces rolled down side of mountain into valley, loose earth and rocks displaced, then back filled over the aircraft remains, so will have to be dug out.
Julian Bray says: Its time for live data streaming of inflight data ( as used in drones) and autoeject black boxes as fitted by military aircraft
Accident in mountain zone, survivors unlikely, lost around 9:39am CET. airspeed 24 knots Some 24 years old, distress call logged at 9:30 CET this later discounted -no call made at 6,800 ft. 6,100 plus aircraft produced, dubbed a 'workhorse' but highly efficient and exceptionally well maintained.
Speculation points to ultra rapid descent, possible mid air explosion or explode on imact with mountain tip.
100km North of Nice and some 150km from Monaco.
AIRBUS have scrambled technical teams and on way to mountain crash location.
LUFTHANSA Germanwings flight
#
4U9525
(registration D-AIPX) was lost from Flightradar24 at 6800 feet at 09.39 ECT time. en route Barcelona to Dusseldorf
Airbus A320 CRASHED 9:39am CET near Digne Les Bains, French Sourthern Alps. 144 passenger plus 2 Pilots 4 Cabin crew. French Police in Helicopter search report wreckage spotted at 11am CET
Emergency call was audio last words EMERGENCY EMERGENCY then aircraft 'dropped from sky'
JULIAN BRAY ++44(0)1733 345581, Journalist, Broadcaster, Aviation Security & Operations Expert, Travel / Cruise Industry, EQUITY, NUJ, Broadcast COOBE ISDN ++44 (0)1733 345020 (DUAL CODEC) SKYPE: JULIAN.BRAY.UK e&oe Cell: 07944 217476 or iPhone 0743 530 3145 #VENDOR 10476453 http://feeds.feedburner.com/BraysDuckhouseBlog