The prospect of bloated floating corpses washing up on Mediterranean shores and swirling in the wake of inter island ferry boats and visiting cruise ships is now a distinct daily possibility as another 700 would be migrants from North Africa, Eritrea, Somalia and Ghana are overnight feared drowned.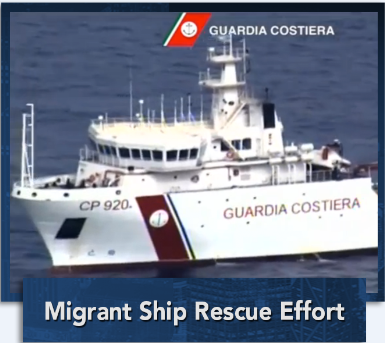 Sky correspondent Enda Brady reporting live suggests there are 1000's more boarding boats and ships ready to embark as the seas are getting calmer.
Coastguard boats and helicopters are searching the sea off the Italian island of Lampedusa for hundreds of missing people, earlier a boat carrying African migrants sank killing at least 127.
Mayor of Lampedusa, Giusy Nicolini, said the death toll from the sinking on Thursday was likely to rise. "It's horrific, like a cemetery, they are still bringing them out," she said.
More than 150 people were rescued but several hundred others are still unaccounted for, according to the Associated Press agency.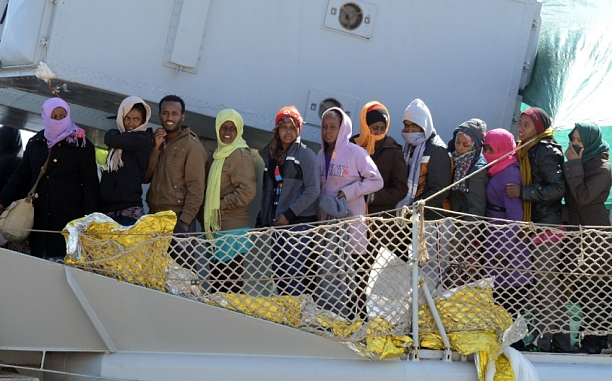 Four coastguard and police vessels and two helicopters were in the area of the accident. A submerged vessel of about 20m in length had been identified in the water, officials said.
Floriana Segreto, a coast guard official, said rescue operations were continuing.
The boat is believed to have set off from Libya on Tuesday. A fishing boat raised the alarm at about 7:20am on Thursday (05:20GMT) and began pulling people out of the water before coastguard vessels arrived.
Pope Francis on Friday mourned the death of the migrants in the latest tragedy. "Today is a day of tears," he said.
Maurizio Lupi, Italy's transport minister, said more needed to be done to combat people-traffickers who put migrants in crowded and unsafe vessels.
Thousands of migrants from Africa arrive in Italy on unsafe, overcrowded vessels every year, with most coming to Lampedusa, a tiny island just 113km from the coast of Tunisia.
Numbers have been boosted this year by thousands of refugees from the civil war in Syria, most of whom have arrived on the eastern coast of Sicily from Egypt.
The life expired craft overturned as they all moved to one side, those on board fearing an alongside ship was too close and would sink their vessel, but ironically they did it themselves.
The problem is growing daily as there are now no less than five civil wars raging all along the African coastline and other conflicts inland. Make no mistake gangs and temporary owners of rust bucket vessels are making fortunes.
Where the ship would normally be destined for breaking up, 4,000 souls each paying over 1,000 euros each for 'safe passage' have opened up a whole new cattle market. The Italians in turn faced with substantial costs have cut back their rescue missions and effectively leaving people to their own devices or to drown, they hoped the much publicised rescue cut backs would discourage the humanitarian flow.
In reality it had the opposite effect. Realising that that the European door was closing, those able to raise the money, jumped straight into the arms of the gangsters. Hapless migrants seeking admission to Italy, know that once on shore, Italians will document and effectively release them quickly into the Europe mainland to make their way to where the perceived jobs are.
The misery continues, as we hear that salad packers in Spains' Murcia, the products all destined for major UK supermarkets, are taking many of them in return for exploitative subsistence pay and shocking living conditions. Life is cheap. If they become sick or unable to work, they are ejected from the packing field and left to fend for themselves, inside Europe.
There is also a strong rumour circulating that some UK election hopefuls or their agents have been recently visiting Italy, and in return for 'funding' doing private deals to move them by various means into the UK and Ireland. In effect a trunk route or corridor is in the process of being created which effectively bypasses the Calais bottleneck. How it works we don't yet know but clearly with the UK Election diverting resources it is the ideal time for the traffickers to flex their muscles.
JULIAN BRAY ++44(0)1733 345581, Journalist, Broadcaster, Aviation Security & Operations Expert, Travel / Cruise Industry, EQUITY, NUJ, Broadcast COOBE ISDN ++44 (0)1733 345020 (DUAL CODEC) SKYPE: JULIAN.BRAY.UK e&oe Cell: 07944 217476 or iPhone 0743 530 3145 #VENDOR 10476453
http://feeds.feedburner.com/BraysDuckhouseBlog