PETERBOROUGH #GE2015 MAYHEM ALREADY STARTED. VOTERS GET WRONG SECURITY CODED POSTAL VOTING SLIPS
WRONG GENERAL ELECTION 2015 & LOCAL ELECTIONS POSTAL VOTING SLIPS SENT OUT TO POSSIBLY HUNDREDS OF THOUSANDS OF PETERBOROUGH ELECTORS.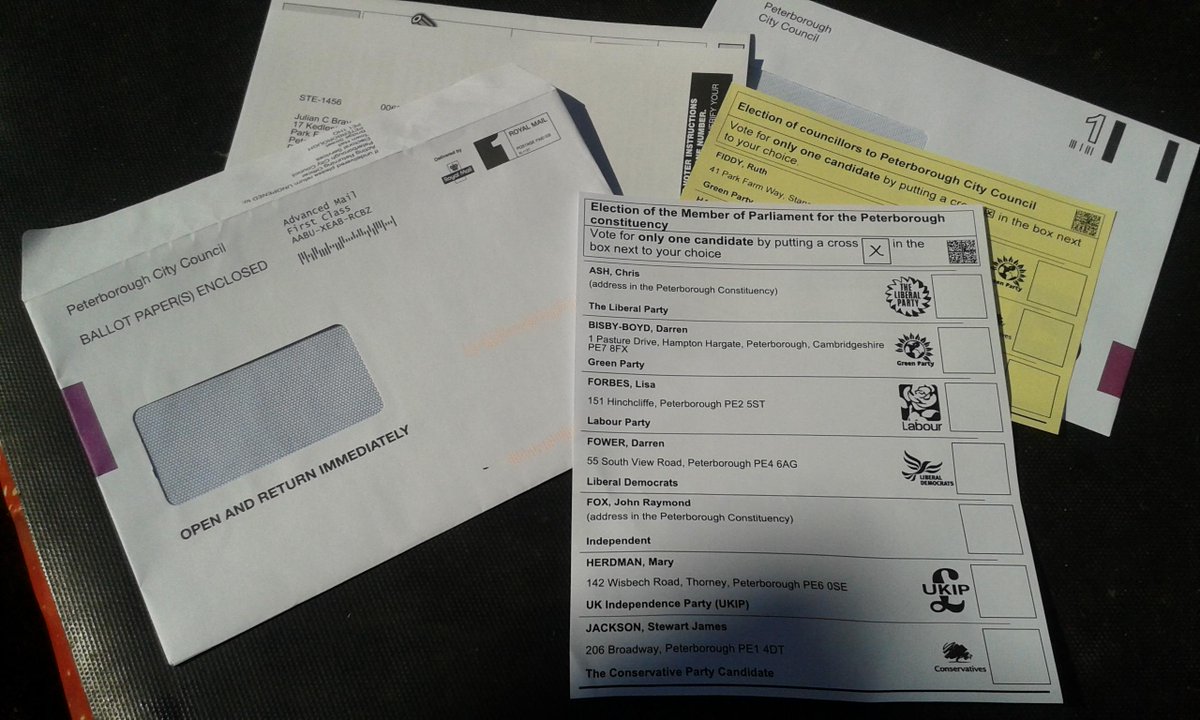 EXCLUSIVE Peterborough Tribune PICTURE


Postal Votes issued under the authority of Gillian Beasley, have been thudding onto doormats all over the Unitary Authority of Peterborough but the WRONG GENERAL ELECTION coded voting slips have been sent out!
Peterborough postal vote packages have been wrongly sent to NW Cambridgeshire voters who live within the Unitary Authority and have requested a postal vote. And we now hear that Peterborough voters in Park & North Ward have the wrong postal votes as well - the candidates for NW Cambridgeshire appear on their coded voting slips.
These are wrongly coded, contain the names and boxes for thr wrong candidates and therefore INVALID.
This alone could ensure that any party reliant on postal votes will be hugely disadvantaged.
Anyone immediately innocently filling in one of these slips and posting off the postal voting package will find their RECORDED VOTES are invalid, as each individual slip is security numbered and barcoded.
The postal votes are checked off against the electoral roll, and if the two do not match up will be declared spoiled.
The Council is not responding to our telephone calls, but in response to our tweet claimed the error was with the unnamed security printer.
The

PBROTRIB

view is like secure City financial documents, the process should have been physically witnessed and the process signed off AT EVERY STAGE as correct by the Returning Officer Gillian Beasley.
This opens up the possibility of massive fraud and many thousands of voters being disenfranchised and denied a lawful vote.
You just had one job.....
The only way is to cancel ALL POSTAL VOTES. Reprint all on a different WATERMARKED security paper and possibly halt or delay the General Election (Best of luck with that one Gillian! Better get the CV up to date and the Headhunters briefed..)
A significant number of voters will have ALREADY innocently already filled in and posted their documents, before departing on holiday. The envelope instructs Open and Return Immediately.
Airlines and Cruise Ship Lines report massive numbers will be leaving the UK ahead of the General Election having cast their postal votes..
Peterborough City Council has form for this, they recently messed up the sticky labels for paid for Brown bin collections and this is the sordid history of postal vote abuse in Peterborough

:
http://parkfarmneighbourhoodwatch.blogspot.co.uk/search?q=postal+vote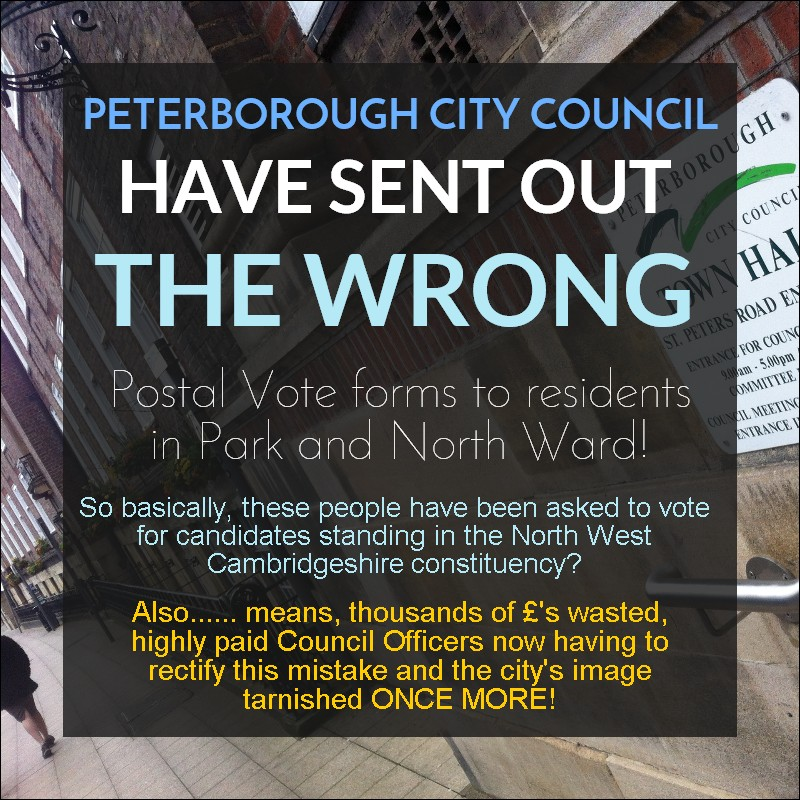 JULIAN BRAY ++44(0)1733 345581, Journalist, Broadcaster, Aviation Security & Operations Expert, Travel / Cruise Industry, EQUITY, NUJ, Broadcast COOBE ISDN ++44 (0)1733 345020 (DUAL CODEC) SKYPE: JULIAN.BRAY.UK e&oe Cell: 07944 217476 or iPhone 0743 530 3145 #VENDOR 10476453
http://feeds.feedburner.com/BraysDuckhouseBlog