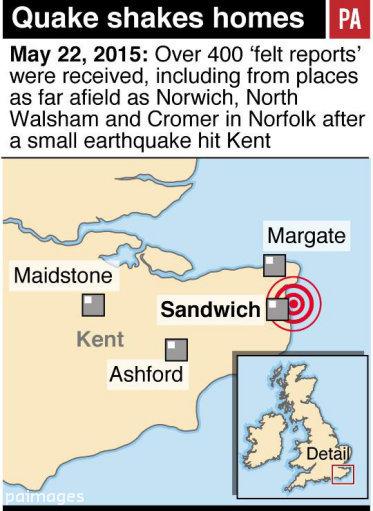 An earthquake with a magnitude of 4.2 shook windows and caused walls to creak when it struck in the middle of the night in Kent. No injuries or damage to buildings were reported following the tremor four miles (7km) south of Ramsgate at 2.52am, Kent Police said.
Locals reported books being shaken from shelves and described the earthquake as feeling like a vehicle had been driven into their property. One thought their hotel door was being kicked in, another described their house creaking, while a third said the tremor sounded like a "heavy object rolling over the roof of the house".
More than 800 "felt reports" were received by the British Geological Survey (BGS), mainly from residents in Ramsgate, Margate and surrounding areas. But the BGS said reports of the earthquake were also received from as far afield as Norwich, North Walsham and Cromer in East Anglia.
In Ramsgate, Muni Prasad, 42, said: "We were woken up suddenly. For a few seconds the property was moving. In my daughter's room, books had fallen down.
"She came to our room and said 'Did you feel it?'. And we said we had. We are on the second floor so when a big vehicle goes by, we sometimes feel it. But with this my wife said it felt like something different."
Bob Fludgate said: "I was woken up in the early hours as if a lorry had hit the house. I'm quite a deep sleeper, too.
Later 'aftershocks' were reported in London, with only slight damage reported.
Sources PA, CNS, BBC, Daily Mail
JULIAN BRAY ++44(0)1733 345581, Journalist, Broadcaster, Aviation Security & Operations Expert, Travel / Cruise Industry, EQUITY, NUJ, Broadcast COOBE ISDN ++44 (0)1733 345020 (DUAL CODEC) SKYPE: JULIAN.BRAY.UK e&oe Cell: 07944 217476 or iPhone 0743 530 3145 #VENDOR 10476453 http://feeds.feedburner.com/BraysDuckhouseBlog