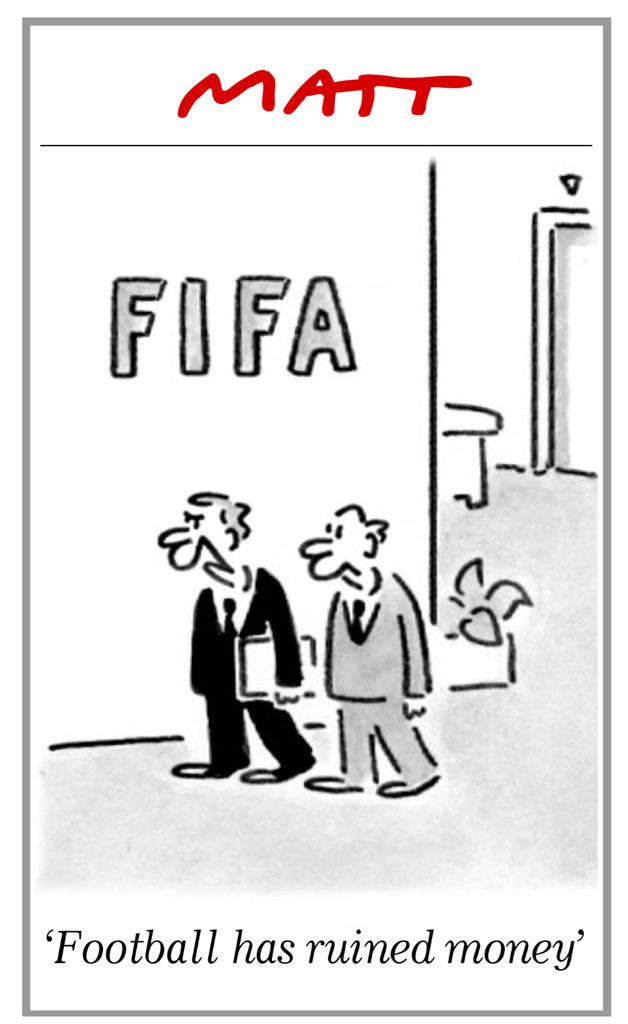 Matt ( in cracking form ) in
The Daily Telegraph 3rd June 2015
2ND JUNE 2015; 17:50 HRS UPDATE: SEPP BLATTER OFFERS 'PR RESIGNATION' IN STEPPING DOWN AS PRESIDENT OF FIFA This is what he said this evening 2nd June 2015: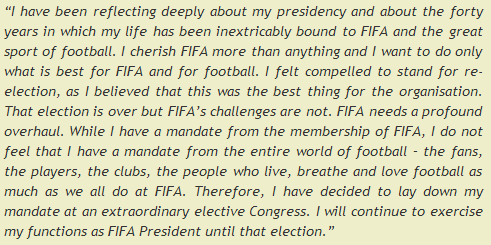 ...and the Qatar FA Boss not too happy either...
with Greg Dyke!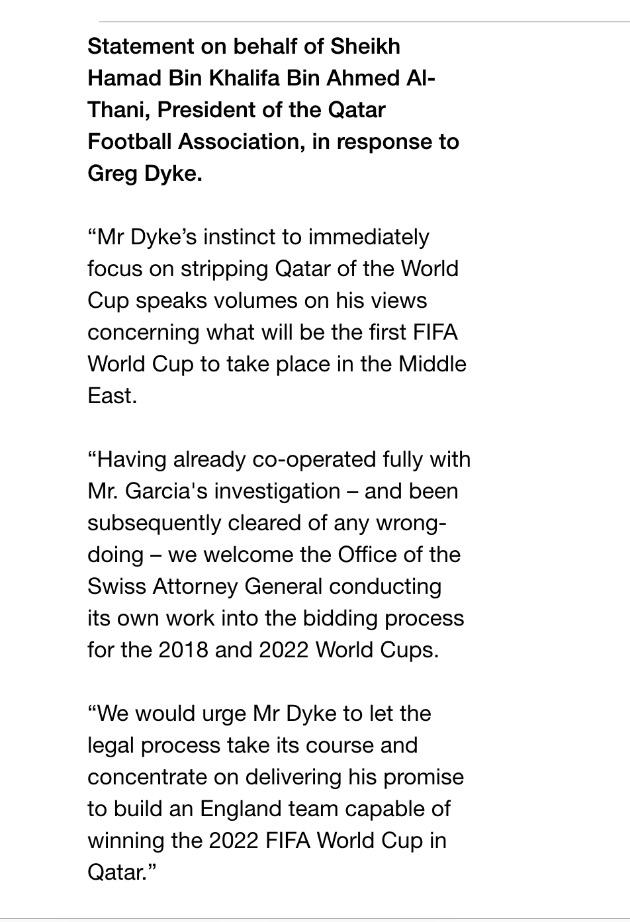 AND THIS IS WHAT WE SAID ON MAY 28TH AND WE SUGGEST COULD BE THE CAUSE OF SEPP BLATTERS CHANGE OF HEART. NOTE HIGHLIGHTED RED PARAGRAPHS
Visa Statement on FIFA
We are troubled by the recent events surrounding FIFA. In our discussions we have clearly stated that greater transparency and more open, forthright communications is not only paramount, but the only way in which public trust in FIFA, and all that it represents, will be restored.
It is our expectation that FIFA will act accordingly and take swift action to resolve these issues in a manner that is meaningful and visible to all.
- See more at: http://visacorporate.tumblr.com/post/103495400278/visa-statement-on-fifa#sthash.ZEBjtFkK.dpuf 
JULIAN BRAY writes:
As the enormity of the FIFA scandal involving seven FIFA vice presidents unfolds, the casual reader might be forgiven for wondering why would any hardnosed highly efficient multinational such as McDonalds, Coca Cola, Visa, Hyundai, Budweiser, Gazprom and Adidas, continue to partner/sponsor or pour in essentially 'dead money' into anything remotely badged 'FIFA'?
At one time in my career, I owned a PR Company and had a marketing and financial PR client Girobank, and a close top level relationship with its main board.
Girobank, part of the Post Office, was set up like eight mini regional banks, and in their wisdom, one of these regional banks sponsored the Belfast Games, at a time when a drugs investigation into participating athletes was being given wide and continuing almost daily publicity in the press and media, dragging the clients name into the editorial reporting.
My task was to take apart the sponsorship budget, strip down the contract line by line, and find out exactly how much the overall sponsorship package was costing, and what was the return on the investment (if any), and if needed how we could repair the perceived damage and possibly terminate the arrangement.
It was clear to me that having been sold the package by a very slick and professional sports marketing group, then headed by an Olympian athlete, the then bank marketing people had not really understood the basis of their involvement and what they were required as sponsors to do to leverage the whole deal.
Essentially the money paid over in sponsorship is 'dead' money, it simply opens the door, and you, the client, then need to find and spend a like amount, to actually get any benefit or product marketing/recognition value out of it. For example spend £1 million - the 'dead money'- for the sponsorship, then add a like £1million for the marketing and PR spend.
What we did get from the broker or sports marketing company was to my mind at the time very little and exceptionally poor value but the bank had signed up and agreed the lengthy contract. Essentially the bank was given a printout of the athletic statistics ( we seemingly agreed to pay extra for the sports statistician ), event times and a printed schedule of awards, selection of print publicity proofs and a cumulative account of the number of times the trackside banners bearing the clients name had fleetingly appeared on television. They were also given as part of the deal, a limited hospitality package. And that was it.
My contact at the time later went on to hold a major position at VISA, who are of course, many years on, one of the major FIFA sponsors. Clearly any suggestion of a financial scandal or wrongdoing would affect VISA but knowing how complex these sponsorship packages are to unwind, it would take a wagonload of sports lawyers (yes they do exist!) to deconstruct the deal.
Bear in mind, no one has yet been charged and found guilty, all those arrested and possibly many more to come, will all have their day in court, may be acquitted, found innocent or just released. But in the interim period the FIFA named sponsor is by the nature of sponsorship linked with the legal goings on in the USA and Switzerland, whatever people may say 'mud sticks'.
We even have the Media Advisory statement issued yesterday by Sepp Blatter through FIFA (and carried on this blog) proudly bearing the names/logos of the sponsors. So again their names are linked with the overall pickle FIFA currently finds itself in. Forces outside of the sponsorship package may well come into play. Millions could be wiped off the sponsors individual share prices, retailers, supermarkets may refuse to stock the products or use the services offered by the FIFA sponsor.
So it matters little how the legal process unfolds, or how long it takes,
the damage to the named sponsors is regardless of matters elsewhere already mounting and whilst FIFA also claims to be a victim, sponsors including McDonalds, Coca Cola Visa, Hyundai, Budweiser and Adidas
, need to regain control of their expensively created world brands.
So what is to be done? The sponsors all need to act as one, NOT INDIVIDUALLY, and quickly, fund and appoint a legal team plus litigation support public relations. Only then can they apply concentrated, concerted pressure on FIFA to act.
For a start adding sponsors names to 'bad news' FIFA Media Advisory statements is not a good idea. As all this happened on Sepp Blatters watch, although he may have personally played no part in the seven vice presidents alleged transgressions, he is linked by implication, and in our view should offer his resignation. Football was invented in England so perhaps we should take back the international game? Remember, the UK spent some £20 million on a bid to host the World Cup, the allegations are that the FIFA outcome and award was rigged. The UK never had a chance!
However the future is cast, FIFA has been damaged and the question is: Can FIFA ever in our lifetime be fit for purpose? Answers on a pinhead.
Rubbing sponsors nose in it......not a good idea..
JULIAN BRAY ++44(0)1733 345581, Journalist, Broadcaster, Aviation Security & Operations Expert, Travel / Cruise Industry, EQUITY, NUJ, Broadcast COOBE ISDN ++44 (0)1733 345020 (DUAL CODEC) SKYPE: JULIAN.BRAY.UK e&oe Cell: 07944 217476 or iPhone 0743 530 3145 #VENDOR 10476453
http://feeds.feedburner.com/BraysDuckhouseBlog