This incident in #Tunisia was updated several times on Friday 26th June and reflects the situation as at 20:00 hrs...

Tunisian security forces out on patrol.
HOLIDAY GROUP TUI AIRLIFT some 2,000 HOLIDAYMAKERS FROM TUNISIA. Other Operators join in with airlift.
Holiday operators TUI are diverting no less than six empty aircraft, and airlifting on Saturday morning, some 2,000 of their clients back to the UK from Tunisia where 37 holiday makers were gunned down earlier today.
Other holiday operators and ABTA travel agents have yet to confirm their intentions to their traumatised clients, but insiders tonight suggest they will now all follow TUI's lead.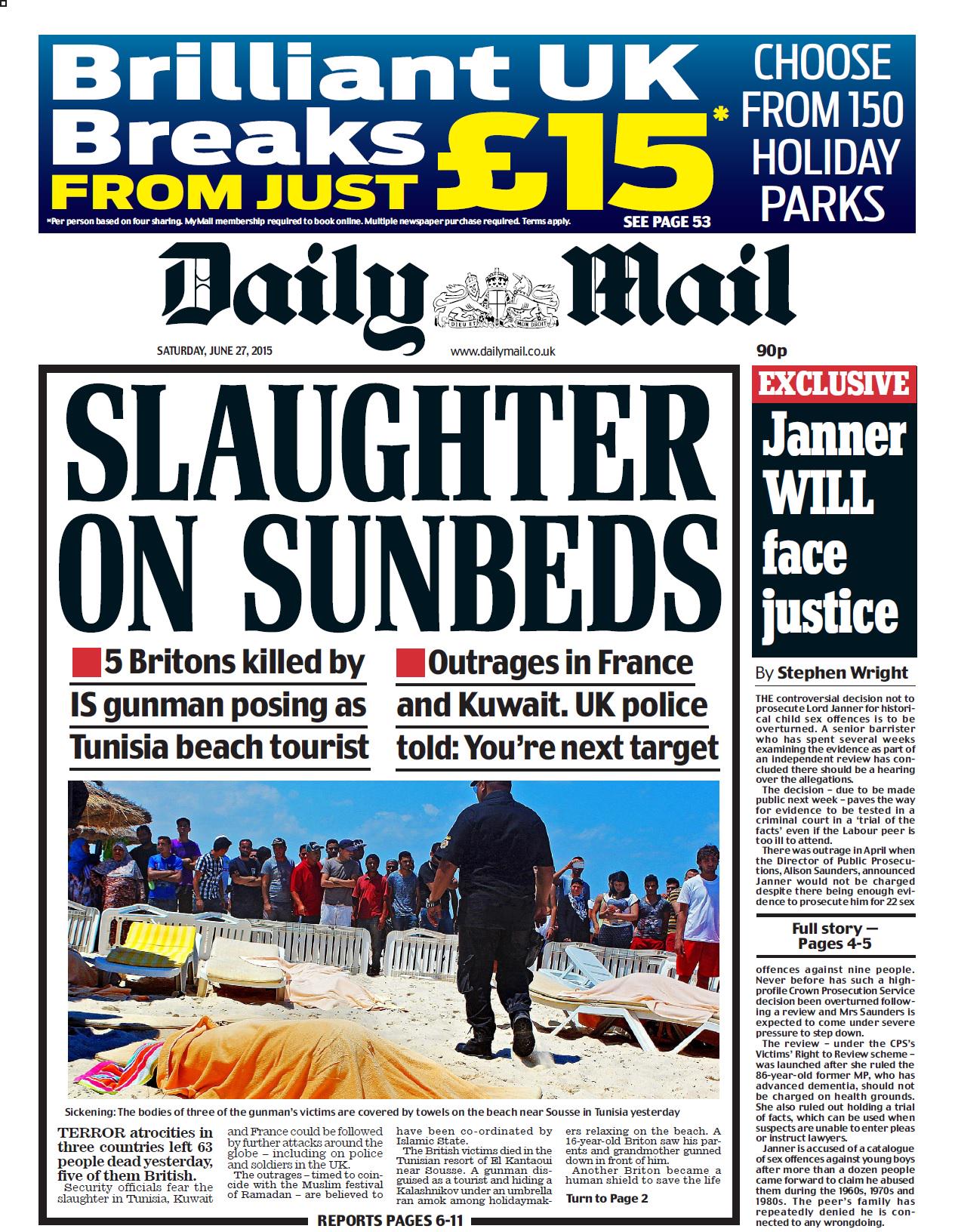 FCO hotline for relatives 0207 008 0000
(NOTE: THIS NUMBER HAS CHANGED)
London, Friday 26th June 20:00 hrs
According to local Al Arabiya News Channel, the death toll has risen to 32 but tonight the BBC are confirming the number slain as 37
The death toll of the holiday massacre had risen to 32 killed and 36 wounded, Al Arabiya News Channel reported, quoting the Tunisian tourism ministry but by 19:30 hrs the BBC were confirming 37 mainly European deaths.
Update 27th June 2015 09:19
Thomson and First Choice Statement on the events in Tunisia:
Thomson and First Choice can confirm that the RIU Imperial Marhaba and the RIU Bellevue, which were involved in the terrorist events in Tunisia are part of our holiday programme.
While the situation on the ground remains fluid, we have had confirmation that a number of the fatalities and injuries are Thomson and First Choice customers. We are working closely with the local authorities and government to confirm the exact details of those affected.
We would like to extend our deepest sympathies to the friends and families of those involved in this tragic event.
We are actively working with the families and friends affected to provide support in resort and a special assistance team is en route to Tunisia to assist our customers.
The whole of Thomson and First Choice are deeply shocked and truly saddened by the events and we are grateful to our staff on the ground and the emergency services who are working hard in an incredibly challenging environment.
Due to this terrible tragedy,

Thomson and First Choice are repatriating customers staying in Port El Kantaoui and Sousse.
Ten Thomson Airways flights have travelled to Tunisia to repatriate Thomson and First Choice customers and additional flights will be added today and tomorrow to accommodate those wishing to return to the UK.
We will also be cancelling all Thomson and First Choice holidays to Tunisia for the next week.
Amendments can be made to bookings on holidays to Tunisia until 24th

July and we are scheduling three extra flights to Cape Verde, Rhodes and Gran Canaria for customers wishing to change their holidays.


The number for other TUI related queries for future departures:
0800 0093835
0 800 00938350
FREE
(+44)2036361996
(+44)2036361996
The Tunisian beach shortly after the massacre
Earlier we confirmed twenty eight holidaymakers, British, German, Irish and Belgium and Tunisians tourists had been machine gunned down (an AK47, hidden in a folded beach parasol) and many wounded by a 'lone wolf attacker' [says Tunisian authorities] targeting two coastal hotels the Hotel Mahaba and the Hotel Palma Marina in Sousse, Tunisia, and also on the nearby Kantaqui beach. Over 20,000 British tourists are currently on holiday in Tunisia. Some reports suggest more than one gunman, and the second is still at large. This is just one of three savage attacks carried out today, the first Friday in Ramadan, the others being in Kuwait and France.
Tourist Exodus begins: H

oliday firm TUI, Thomson's parent company, is to fly in six empty charter aircraft overnight to evacuate their tourists from Djerba and Enfidha. Other holiday firms are expected to follow TUI's lead....
Latest BBC updates on this link.
A COBRA emergency meeting in London is scheduled later at 16:40 today. A hotline is being set up by the Foreign Office it is 0207 008 0000
.
The situation for tourists in Tunisia is highly fluid, but grave, however the travel advice given on the
Foreign Office website
clearly isn't fit for purpose as this is not the first serious Tunisian incident and the website seems to be more concerned about saving face by suggesting tourists should not give information to journalists. Clearly the oxygen of publicity by responsible media organisations will put pressure on the UK and European politicians to actually do something. It also seems to have misquoted the locus of the main attacks.
This is the current FCO statement as at 17:50pm (it could well change):
Gunmen attacked the Imperial Hotel and Hotel Club Riu Bellevue at Port El Kantaoui, near Sousse, earlier today.
A number of people have been killed and injured. A British Embassy crisis team is on its way to the area.
Some attackers may still be at large. Any British nationals in these hotels or nearby should remain indoors, and contact their tour operator and the Foreign Office on the hotline number below. For security reasons they should not advertise their location on social media or when speaking to journalists.
FCO Hotline number:

+44 (0)207 008 0000
+44 (0)207 008 0000
The Foreign and Commonwealth Office (FCO) advise against all travel to:
the

Chaambi Mountain National Park

area

the Tunisia-Algeria border crossing points at Ghardimaou, Hazoua and Sakiet Sidi Youssef

the militarized zone south of, but not including, the towns of El Borma and Dhehiba

within 5km of the Libya border area from north of Dhehiba up to but not including the Ras Ajdir border crossing
The FCO advise against all but essential travel to:
areas south of, and including, the towns of Nefta, Douz, Médenine, Zarzis (including the Tunisia-Libya border crossing point at Ras Ajdir)

within 30km of the border with Algeria south of, and including, the town of Jendouba (this area includes the archaeological sites of Bulla Regia and Chemtou)

the governorate of Kasserine, including the town of Sbeitla
If you travel to the interior of Tunisia, you should do so with a reputable tour guide.
There is a high threat from terrorism, including kidnapping. Attacks could be indiscriminate, including in places visited by foreigners. See
Terrorism
A terrorist attack took place at the Bardo museum in the centre of Tunis on 18 March. A number of people were killed, including a British national. Further attacks are possible. You should be especially vigilant at this time and follow the advice of Tunisian security authorities and your tour operator.
424,707 British nationals visited Tunisia in 2014. Most British tourists stay in the coastal resorts and most visits are trouble free.
In the resort areas, the dress code is much like any European city or tourist area. In other parts of the country you should dress more modestly. See
Local Laws and Customs
Take out comprehensive
travel and medical insurance
before travelling.
At the moment Tourists to Tunisia seeking to cancel their package holidays
will not get refunds and travel insurance companies will not pay out
until the Foreign Office changes its official advice. Independent travellers with travel insurance should contact their airline and broker.
Thomas Cook are however suggesting changes may be made to existing bookings - without further charge - We suggest keep in contact with your holiday company rep. and hotel management. KEEP A VIDEO DIARY, construct a written timeline and take photographs to support your activity. Keep all receipts and paper documents, in date order, somewhere safe.
We are hearing within the last hour; that at least one tourist flight from Belgium has been turned around. So official travel advice may change, only then fully unlocking insurance refunds.
Our strong advice is to stay within your hotel compound or better still LOCKED inside your hotel room and well away from the balcony ( in case of sniper activity). Females are advised to cover up and dress very conservatively. This is the holy month of Ramadan...
Keep your mobile phones and cameras fully charged, while the hotel has electricity and secure some bottled water and fill a bath, in case water is cut, and you need to flush the loo etc
If you have the funds in cash to leave the country, that is an option, but a highly risky one. Not advised. There are over 20,000 British tourists in Tunisia mainly in coastal resorts.
If any evacuation is required it would be organised both internationally and locally and with a police/military escort to the airport or other point of departure. Be prepared to evacuate your hotel QUICKLY,
leaving most of your luggage behind
, just pack a few essentials in a small carry bag and secure your travel documents, medications, warm clothing, 'stout shoes' and passports. Be prepared to be 'inconvenienced'...
Holidaymakers flying out to Tunisia in the next few days are strongly advised to contact their travel agent and holiday company. Until FCO change travel advise, holidaymakers are still financially liable for the full amount of the holiday contract and will not qualify for any form of refund or financial relief, although some operators may offer as a goodwill gesture an alternative destination at their option. Refunds, cancellations will only be actioned if the British Government changes the travel advice.
Local telephone numbers for the British Embassy are given below.
Keep visiting the
Foreign & Commonwealth Office Website and tune into BBC World Service
FROM THE WEBSITE:
We support cooperation between the UK and Tunisia in a wide range of fields. We also provide a range of services to the UK and Tunisian public.
See full profile and all contact details
British Embassy Tunis, main contact
British Embassy
Rue du Lac Windermere
Les Berges du Lac
Tunis
Tunis
1053
Tunisia
Telephone
+216 71 108 700
+216 71 108 700
Fax Management
+216 71 108 749
Fax Consular
+216 71 108 779
Fax Commercial
+216 71 108 749
Access and opening times
Thomas Cook earlier issued the following statement however astonishingly the weblink given for the FCO advice is broken, better to use the one we give above....
| | |
| --- | --- |
| Thomas Cook Group Latest Information - Tunisia Incident | |
Latest Update: 26th June 2015 15:03
Thomas Cook is aware of a tragic incident which occurred earlier today in Port el Kantaoui, Tunisia. We can confirm that the hotels targeted are not offered by Thomas Cook, and that none of our customers or staff were in residence at the time. However, we do currently have customers staying in other parts of the resort, and our experienced teams on the ground are continuing to offer every support to them and their families at this difficult time.

Our customers' welfare remains our primary concern, and we are liaising closely with our overseas team and the FCO. We are continuing to monitor the situation, and will provide further updates as appropriate.
For the latest Tunisia travel advice, visit
https://www.gov.uk/foreign-travel-advice/Tunisia
JULIAN BRAY +44(0)1733 345581, Journalist, Broadcaster, Aviation Security & Operations Expert, Travel / Maritime & Cruise Industry, EQUITY, NUJ, Broadcast COOBE ISDN ++44 (0)1733 345020 (DUAL CODEC) SKYPE: JULIAN.BRAY.UK e&oe Cell: 07944 217476 or iPhone 0743 530 3145
www.aviationcomment.com
# # # VENDOR 10476453
http://feeds.feedburner.com/BraysDuckhouseBlog