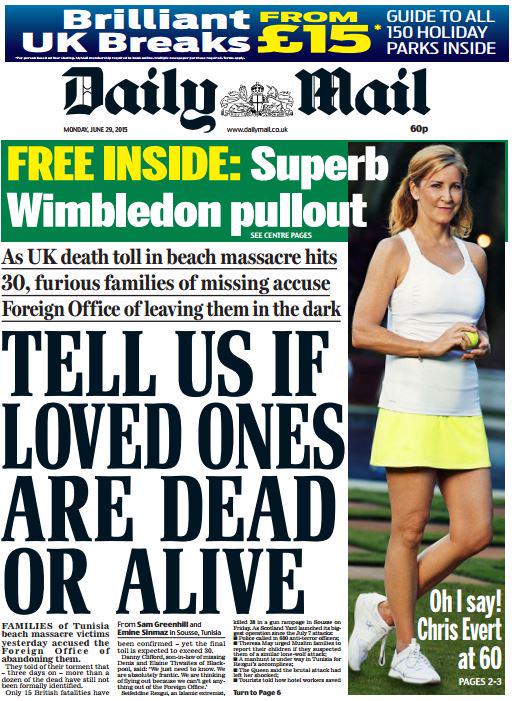 +++ BELGUIM TELLS ITS CITIZENS TO LEAVE TUNISIA NOW! COUNTRY PUT ON 'NO GO'LIST +++
Julian Bray writes: Looking back on the events of the last few days in Tunisia, France and Kuwait it is really hard to understand the thinking and the complete lack of urgency displayed by the UK Government, local Tunisian security forces and holiday operators.
The ABTA position on this has also been pathetic, and shows just how little real influence they have over their Corporate associates and High Street Travel Agency membership with a poorly briefed spokesman simply repeating a few well worn statistics,
offering little comfort and no practical advice for traumatised British tourists, and their families back home

.
You really wonder what would have happened if Israelis or Germans and not the British were the main targets. The response perhaps, would have been swift and decisive.
Consider the gunman Seifeddine Yacoubi in the Tunisian resort of Sousse went on a 45 minute shooting spree. Hold that thought 45 minutes of carnage! Local video emerging, you can hear the shots. 'Bang' wait one second 'Bang' wait another second 'Bang'. 3 seconds. 3 British Citizens shot dead. 37 so far have died, more are just hanging on...
The 'clean skin' i.e. no one in authority knew of this murderer. He is relaxed, strolling down a packed beach killing sunbathing British citizens, one by one, with an AK47 (these are very easy to obtain in Tunisia, a major supplier of 'foot-soldiers' for ISIL, and indeed local back street factories churn out home tooled replacement parts for the AK47).
A local hero, a builder, bravely starts throwing roof slates at the gunman and diverts the killing spree for a while. What a bloody mess.
At one time tour operators - before they became the playthings of faceless financiers and hedge funds - would have available a clearly defined crisis management plan along the lines of the NHS declaring a Major Incident programme.
Local information cascade plans would be in place with the core information ready to be top and tailed as required, but speed and information always being of the essence.
These days it is an easy matter, social media is the messenger where a face to face meeting isn't possible. All modern hotels have cable and internal TV systems, an easy matter to play out looped video or digital files on company websites even.
At the very first sign, of a major incident being declared, Board level senior management with already well practised clearly defined roles would head for the airport boarding their own or competitors planes. Even taking staff jump seats if required. They would also include an insurance company medical team to triage, a cashier to trigger insurance funding and a experienced trauma Doctor. At one time when I was involved with Europ Assistance; Dr Richard Fairhurst would be on board with his team of trauma paramedics, he'd negotiate even fight with local medical teams. In one classic case on the runway tarmac stopping the local medical team from removing 'their property' a metal cage and pins from the shattered leg of a victim. He paid substantial cash on the spot to stop it; and bringing specialist equipment for turning aircraft into flying hospitals. Small things like blood /saline bag pumps as gravity feed in a pressurised aircraft for 'drips' isn't an option. Meanwhile locals teams would be preparing lists of clients or guests (
never ever referred to as customers
).
Once at the resort immediately distribute information sheets, call group meetings, advise clients to pack bags, and arrange for the airport exodus. At the same time hold constant press conferences and updates, constantly explaining, repeating what is taking place to the assembled media pack. Time and time again we hear: "We haven't been told anything"
This really is a case of 'information overload required,' with the travel and holiday industry taking control rather than leave it to the media to dig out and relentlessly repeat its own version of events. Make no mistake this is a major LONG TERM disaster not only for Tunisia but for all involved. Even established travel journalists (and some freeloaders) have been wrong footed and their professional credibility now questioned.
On here we did attempt at the time to provide some basic advice and it still holds good.
But Mediterranean North African resorts? All are now no go areas despite what the politicians say. It is a question of Anger Management, and that is something I've yet to try. I'm still beyond anger, furious if you like and reeling at the crass stupidity of those we at one time respected.
Since writing this, Belgium has ordered all of its citizens out of Tunisia. Tunisia is now a no go area. Clearly we should take notice and do likewise.
JULIAN BRAY +44(0)1733 345581, Journalist, Broadcaster, Aviation Security & Operations Expert, Travel / Maritime & Cruise Industry, EQUITY, NUJ, Broadcast COOBE ISDN ++44 (0)1733 345020 (DUAL CODEC) SKYPE: JULIAN.BRAY.UK e&oe Cell: 07944 217476 or iPhone 0743 530 3145
www.aviationcomment.com
# # # VENDOR 10476453
http://feeds.feedburner.com/BraysDuckhouseBlog