Is this the real thing or a convincing Flaperon imposter?
UDATE SATURDAY AUGUST 8

Julian Bray writes: Allegedly unhappy with the quality of debris being passed over by the Malaysian authorities, the French investigating magistrate is planning a trip to Malaysia, effectively ramping up French judiciary involvement in the current phase of the recovery operation surrounding missing Malaysia Airlines Flight 370.


This development is calling into question Malaysia's criminal investigation, which has remained inconclusive, France is now starting its own triple method hunt for debris by air, land and sea over the region involving Réunion Island, French territory located in the western Indian Ocean.
Malaysian officials are furious that French investigators will still not fully confirm debris recovered so far (including the flaperon) is from the missing Boeing 777. A team of investigators led by Alain Gaudino, a French counterterrorism magistrate examining the flaperon in Toulouse, isn't taking any chances and has ordered more invasive tests.
The French are treating this as a criminal investigation as French Nationals are also on the passenger list of the missing MH370.
French investigators have said the flaperon very likely came from the missing Boeing triple7. But they need undeniable evidence before they are willing to say 100% the flaperon broke off the actual Boeing 777er performing Flight MH370.
According to media sources, on Thursday Mr. Gaudino briefed Ghyslain Wattrelos,his wife, son and daughter were on the plane. The investigating magistrate told him an examination of the wing section didn't yield confirmation it came from Flight 370.
"They know it's a Boeing 777," Mr. Wattrelos said. "But today they have no proof at all that it's coming directly from MH370."
French investigators have already drilled into the recovered wing section, searching for signs of a maintenance seal or tag that Malaysian authorities documented when the missing jet previously underwent repairs, according to Mr. Wattrelos and people familiar with the matter.
The findings of the French investigators didn't match the available Malaysian aircraft service records, Mr. Gaudino said, according to Mr. Wattrelos.
Malaysian officials, maintain the discrepancies aren't significant enough to challenge their conclusion, according to two people familiar with the investigation.
Malaysia's transport minister said this week that paint on the wing section helped identify it as coming from the missing aircraft.
Mr. Gaudino maintains that the paint on the component appeared to come from its manufacturer, Boeing, not Malaysia Airlines, according to Mr. Wattrelos. It has also been highlighted that flaperons are also manufactured under a Boeing contract by a factory in Bangalore India, could this be a factory Flaperon reject, discarded and finally dumped in the Indian Ocean?
"To my knowledge, there isn't paint specific to Malaysia Airlines," said a spokeswoman for Paris prosecutors who are working with Mr. Gaudino. "In addition, the wing section's placard (tag or label) —containing an all important serial number—appears to have fallen off, the spokeswoman added.
To confirm the debris is from Flight 370, the team will now have to forensically examine the interior box section of the flaperon, compare serial numbers, and match them if possible to elements known to have been inside the Flight 370 flaperon.
Investigators are also trying to match documented data with an identifying mark on a portion of the internal structure that would conclusively establish the flaperon's identity.
On Friday, France began a new search for plane debris in the seas surronding Réunion, it is expected to continue for 7 days. Réunion officials maintain they couldn't yet identify new debris found on the island as coming from an airplane, directly contradicting broadcasted public statements from Malaysian officials that the objects are from an airplane.
Safety experts including Julian Bray from the UK fear that Malaysian authorities are prematurely announcing that debris has been found, only to amend and correct statements later on, effectively raising hopes for them only to be cruelly dashed. These announcements also effectively delay the core investigation.
Malaysian officials however promised to coordinate more closely with other nations after sustaining damaging widespread criticism for poor PR and multiple communication gaffs.
The Boeing 777, disappeared on March 8, 2014, en route from Kuala Lumpur to Beijing, is thought to have entered the eastern Indian Ocean, hundreds of miles off the coast of Australia but technically and internationally agreed under Australian air traffic control. Weather experts say it is possible that ocean currents could have carried the debris from the possible crash location across the Indian Ocean to Réunion.
Australian officials are leading an extensive underwater search some 2,000 miles away from Réunion for the main wreckage of Flight MH 370, and the 'black boxes' [painted orange] recording flight data, also conversations and sounds in the cockpit.
Malaysian authorities investigated passenger and crew lists of MH370 last year, announcing in April 2014 that investigation had revealed nothing of interest and they had all been eliminated from the enquiry.
Sources: AFP, WSJ, CNN, CNS, BBC,JBM. FRANCE24,ChannelNewsAsia,BBC5Live & LBC
READ MORE >>>
A panel of International experts including a team from Boeing in the USA examining the debris now in France had "conclusively confirmed" it was from the missing aircraft. As this is a criminal investigation in France, due to French nationals being on flight MH370 a magistrate Serge Mackowiak was also present.
The Malaysia Airlines plane with 239 passengers, deviated from its scheduled route: Kuala Lumpur, Malaysia to Beijing, China in March 2014.
The recovered Flaperon was examined at the BEA centre near Toulouse.
Mr Najib said the "the burden and uncertainty faced by the families" in the 515 days since the aircraft disappeared had been "unspeakable".
"We now have physical evidence that flight MH370 tragically ended in the southern Indian Ocean," he added.
French prosecutor Serge Mackowiak later confirmed the wing fragment, known as a flaperon, was from a Boeing 777 - the same make and model as the missing Malaysian airliner.
He said the results of initial tests showed there were "very strong indications" the flaperon was from flight MH370.
He said confirmation would come after further tests on the fragment, which would begin on Thursday.
Sources: BBC, AFP, CNS, Malasian Govt facebook,

CNN had this first but what is it ? It's tucked under the rocks on the beach where the Flaperon was found. It has some Chinese characters on the fixing for what must be a handle.
The

階梯

pressing is a bit crude and the 'handle' thin. The best I could come up with live on CNN America this morning, was a flattened

階梯

Chinese manufactured rice or milk boiler with handle.
America collectively erupted, eating their early morning bowl of Grits and shouting at the TV screen. If your Chinese is up to it, please read the message stamped between the two rivets, just to the left of the Gettyimages logo and tell us all and the rest of the world on twitter.. Local police are interested as well.
SORTED! It's part of a China manufactured 階梯 !!!! ........
......... Ladder.....
Location of Flaperon marked in blue
UPDATE:
1st August 2015
No 'big flap' on the Flaperon, it seems as we understand that instead of 'express air frieighting' the debris, the French authorities have sent it packed inside wooden transit container on 'a holiday' by boat and then road! August being the month France closes down and everyone ironically heads for the beach by road.
Officials say they will not be starting work on the debris until next Wednesday, and if is as normal, there will be a lengthy stabilisation process to complete before cutting into the carbon fibre fabric to get at any markings or tags inside the box section.
I
t is probably too much to hope that Indian technicians from the Bangalore manufacturing facility (see below) that has been specifically churning out Flaperons for Boeing triple7's will also be invited to attend along with their own jig assembly kit. Differences between the Bangalore, India Flaperon product and those made elsewhere might be determined by deep analysis of the individual components and fixings. The word is don't expect a quick resolution, it is August after all. Hopefully with some additional World pressure, the process might be speeded up, even if ever so slightly.
UPDATE: 31st July 2015
Julian Bray writes: First of all, this is pure speculation, as we have to wait for the official enquiry to report but it does not stop us putting what we know out for you to consider.
So the aircraft debris strongly believed to be a Boeing 777 Flaperon - has now been airlifted to the French BEA facility at Toulouse, Although it is pretty certain it is a 777 part the question, remains, is this from the missing MH370 flight? Although only one 777 is currently missing, early 777's have already been broken down for spares and parts recycled, or as they say in the trade 'parted'. This suggests loose Flaperons are both stored and some recycled.
So what will they do? Hopefully the interior of the wing box section still bears identification and parts labels. If it is from MH370 then its been in the water since March 8th 2014 but spectral analysis of the surface paint, and minute examination of the interior should yield some data in the form of tags, service labels and possibly ink jet printed numbers on the inside of the carbon fibre skin. The rivet/ fixings pattern from the Bangalore factory, will minutely differ from Flaperon parts manufactured, in say, the USA. So that avenue could be closed or provide a real answer.
A casual inspection of media footage shows the uniform damage all along the leading flap edge, this suggests the Flaperon was in an extended downward position as it would be for a descent or involuntary crash landing. That would be enough, as it entered the water for the part to break off and possibly float up over time to the surface.
An air/gas pocket might be established suggesting the part would float 'edge or end up' making it difficult to spot, rather than float flat on the sea surface. This is also evidenced by the marine life mussel formation on both sides and one end of the debris. Although spoiling a good story, it also caused a huge ripple on CNN, when I suggested that it could just be a factory reject from Bangalore, India where they have been specifically making this part on behalf of Boeing for many years.
Local police and investigators assisted by helicopter sorties are now examining the coastline of the island off Madagascar but the main sea search will for the time being keep to the original pattern.
A Chinese water bottle, Malaysian cleaning materials, have now been found also along with a suitcase, the suitcase has now been eliminated, but the difficulty is tying in the findings with the missing aircraft. This location is near to busy shipping lanes and daily a lot of garbage is illegally dumped at sea, by passing 'flag of convenience' shipping.
BREAKING NEWS
+++ CODE IS FROM BOEING 777 AIRCRAFT
MAINTENANCE MANUAL +++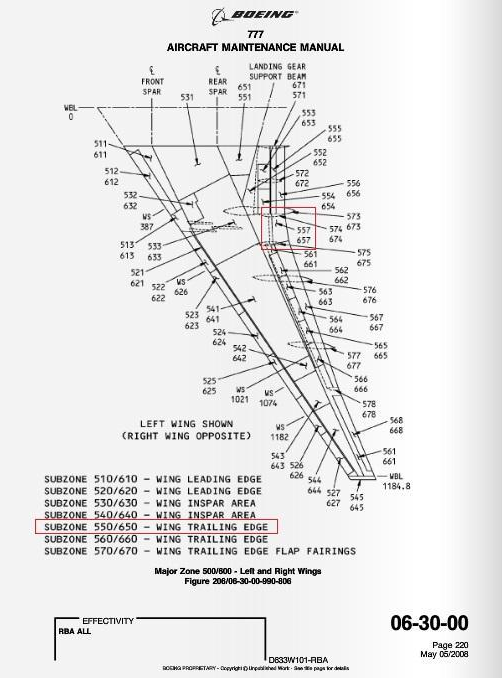 Looking at the right hand leading edge of the flaperon, the damage all along the leading edge (which during landing would extend downwards appears to be uniformly damaged and could indicate the flaperon was extended downwards before impact - or could just be a swap out unit, junked by the Bangalore plant and discarded ,or destined for a recycling bin. Whichever theory you favour, MH370 is right at the top of the news agenda.
A mysterious piece of plane debris washed up on the French Indian Ocean island of La Reunion, is prompting speculation it could be part of the missing Malaysia Airlines flight MH370.
The two-metre-long piece of wreckage, thought to be a 'flaperon' which seemed to be part of a wing, was found by people cleaning up a beach.
__________________
Aviation expert Julian Bray writes:
It looks like (and the 777 maintenance manual seems to confirm) the debris part of a 777 wing flap, [a 'flaperon' which is a carbon fibre composite wrap around wing profile component, located near/next to the fuselage; unique to this Boeing triple7 extended range variant ] section but what worries me is that the rivet pattern on initial inspection of location footage would not seem to be the same as that on the missing MH370 Boeing triple7ER.
The manufacturing change, could be that it is an authorised 777 product of Indian manufacture (see below) and therefore not from the MH370 missing aircraft.....
Also the quoted part serial number BB670, could be a distortion, a variety of numbers and letters, as the debris has been in the water so long and the print eaten away ie an 8 being misread as a 6, or the B really an 8 or 3. But this now seems to be unofficially confirmed as a maintenance tag number.
Investigators will check sub assembly suppliers internal part and consignment/ run numbers. Often the part number/reference is inkjet dot ribbon printed (ie repeated many times) inside box components.
The annoying factor which mitigates against this being from MH370 is that if the aircraft had broken up at sea, then more than a single possibly obsolete aircraft component would have been washed up, and half buried, along the coastline of Las Reunion Island.
Seat squares, lifejackets, sealed buoyant suitcases, inflight sealed meal boxes and hotbox transit containers, being obvious prime items.
Clearly it has to be treated with caution as it could be a cruel hoax or someone trying to collect a finders fee or reward.
It is also highly possible that the flaperon component found earlier today - which is also lawfully manufactured in Bangalore India by Hindustan Aeronauticals and is simply a factory reject sent for recycling, and possibly found its way possibly by devious means into the ocean, from the Indian Coast. Carbon fibre is a difficult material to immediately recycle..
This is part of the original news release:
Bangalore, Oct 22, 2009 (IANS) Hindustan Aeronautics Ltd (HAL) will jointly manufacture flaperons for the Boeing 777 series of aircraft manufacturer major Boeing Corp, the state-run defence behemoth said Thursday.

A flaperon is a type of control surface that combines flaps and ailerons, which are attached to the trailing edge of the wing of a fixed-winged aircraft. They are used to control the aircraft in roll.
Flaperons also reduce the weight of an aircraft.
"The 777 flaperon is a complex composite assembly that is instrumental in controlling an aircraft's maneuverability in flight. As a control surface, flaperons work both as an aileron to control roll and as a flap to control lift," the company said in a statement released in Bangalore India. https://hal-india.com/
__________________
"It was covered in shells, so one would say it had been in the water a long time," one witness said.
French air transport officials have already opened an investigation to find where the wreckage could have come from.
A local official said it was too early to suggest that it might be from the missing Malaysia Airlines flight.
"People are getting ahead of themselves over this," Eric Chesneau, an officer in the air transport police of the French Indian Ocean territory, said.
"It is more than likely plane debris, [but] we don't know what exact part it may be."
No trace has been found of the Boeing 777, which disappeared in March last year carrying 239 passengers and crew from Kuala Lumpur, bound for Beijing, in what has become one of the greatest mysteries in aviation history.
Search efforts led by Australia have focused on a broad expanse of the southern Indian Ocean.
Xavier Tytelman, an expert in aviation security, said it could not be ruled out that the wreckage belonged to MH370.
No part of the wreckage has ever been found and Malaysian authorities in January declared that all on board were presumed dead.
Mr Tytelman said that local media photos showed "incredible similarities between a #B777 flaperon and the debris found", referring to a Boeing 777 — the type of plane that disappeared.
He also noted a reference on the wreckage: BB670.
"This code is not a plane's registration number, nor serial number," Mr Tytelman said.
"However... it's clear that this reference would allow a quick identification. In a few days, we will have a definitive answer."
Boeing said in a statement it remained "committed to supporting the MH370 investigation and the search for the airplane".
"We continue to share our technical expertise and analysis," the US aviation giant said.
"Our goal, along with the entire global aviation industry, continues to be not only to find the airplane, but also to determine what happened — and why."
SOURCE: AFP/Reuters
JULIAN BRAY +44(0)1733 345581, Journalist, Broadcaster, Aviation Security & Operations Expert, Travel / Maritime & Cruise Industry, EQUITY, NUJ, Broadcast COOBE ISDN ++44 (0)1733 345020 (DUAL CODEC) SKYPE: JULIAN.BRAY.UK e&oe Cell: 07944 217476 or iPhone 0743 530 3145 www.aviationcomment.com # # # VENDOR 10476453 http://feeds.feedburner.com/BraysDuckhouseBlog