As I recalled on BBC Radio Scotland earlier today, a little bit of history is being celebrated later this morning, when for the first time an all battery electric aircraft - which has yet to be granted an airworthiness certificate - will take off from Lydd Airport in Kent and attempt to fly the English Channel. Its already clocked up 45 hours flying time with daily short demonstration flights at the Paris Air Show.
The aircraft named by the boffins as Airbus E-fan 4.0 is the brainchild of the Airbus Group and will mark the 100 year anniversary of aviator Louis Bleriots first flight over the channel. If weather conditions are right, lift off will be at 09:15 GMT /10:15 CET.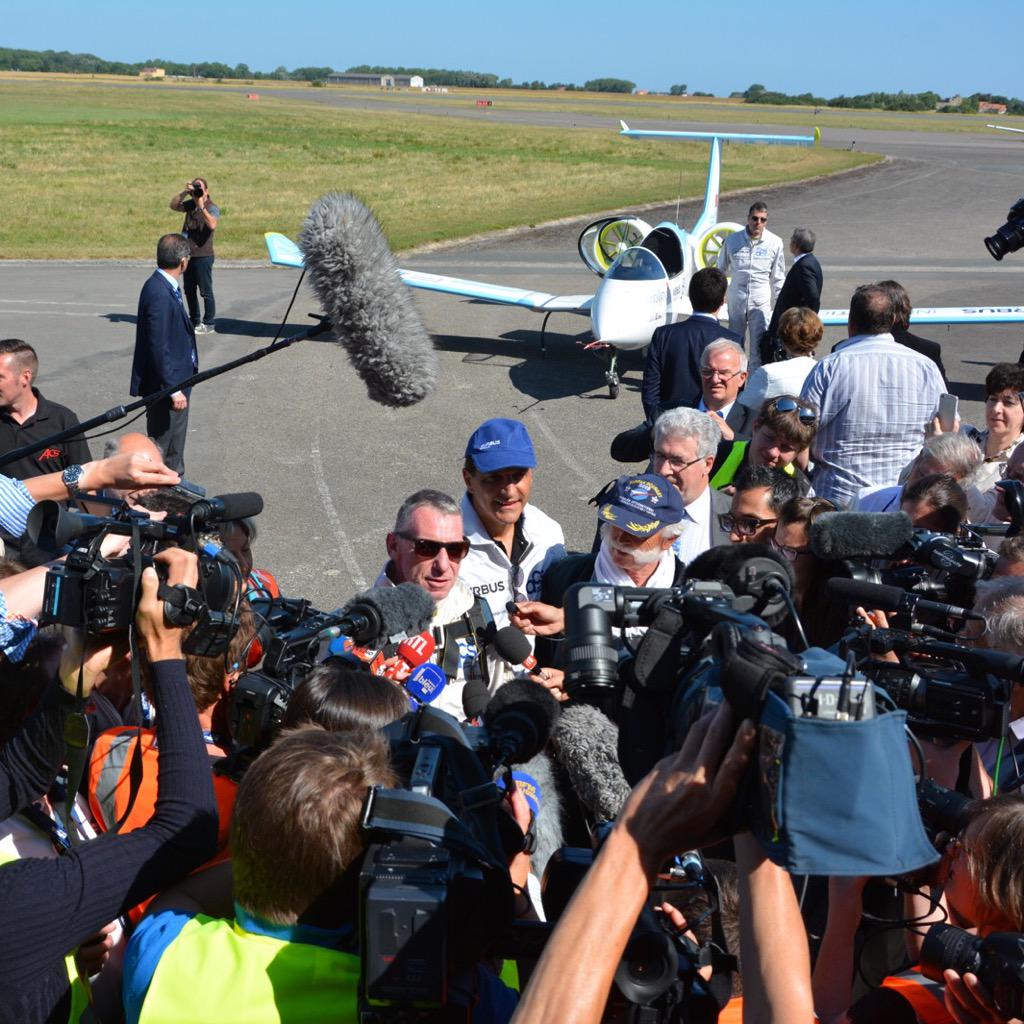 HAPPY LANDING! Test Pilot Didier in Calais shortly after landing following
an all electric battery powered fan flight over the English Channel
The aircraft is unusual, and if Airbus can make this work commercially, then the future of aviation will see hybrid variable pitch electric fan aircraft performing regional commuter flights and possibly used as helicopters. The all electric version flying today has around 50 minutes flying time before needing to be plugged in for recharging. Where the wing fuel tanks should be 2,982 lithium Ion battery cells have been installed. They are the heaviest component of this ultra light carbon fibre aircraft.
The landing gear is also unusual as like a car it has four wheels, and two smaller wheels under the wings. The rear wheel is chain driven like a motor bike, from its own electric motor which can speed the aircraft along the runway at upto 70 mph, when the aviation electric fans kick in and lift the aircraft off the ground. Clearly there is little noise, absolutely no carbon emissions and can be plugged in between flights. Already a production line in Peru is being set up. M. Bleriot would be pleased... Dubonnets all round!
JULIAN BRAY +44(0)1733 345581, Journalist, Broadcaster, Aviation Security & Operations Expert, Travel / Maritime & Cruise Industry, EQUITY, NUJ, Broadcast COOBE ISDN ++44 (0)1733 345020 (DUAL CODEC) SKYPE: JULIAN.BRAY.UK e&oe Cell: 07944 217476 or iPhone 0743 530 3145 www.aviationcomment.com # # # VENDOR 10476453 http://feeds.feedburner.com/BraysDuckhouseBlog