CAUTION: All comments, as always, are purely highly speculative, derived from a variety of sources, many of them legally untested. This is a developing media story, however intense media interest is already declining as the news agenda moves on. Any conclusions or stated positions are designed to promote vigorous public debate, assist detailed closer examination of the incident and to unearth/dig out any additional information and/or data that could be of value to any official investigation, or judicial process. Sadly certain online forums are negatively targeting media sources and on one claim to have worked with us. (Its not true - all our partners are declared!) They like us will have to await the publication of any interim report and the official air accident investigation report, it could well take two years for the final report to be published. Our thoughts are with the victims and their relatives. We also hope the Pilot currently in intensive care, makes a full recovery. JB
SHOREHAM AIR SHOW INCIDENT: POLICE REVISE DEATH TOLL FIGURE BACK TO 11 'LIKELY TO HAVE DIED'; AS NO FURTHER BODIES FOUND UNDER LIFTED CRASH DEBRIS
UPDATED WEDNESDAY AUGUST 26 2015
(Later updates after Aug 26 2015, will now be in the form of new individual posts. This original post and links will remain as a matter of record)
Heavy lift mobile crane has lifted fuselage and tail sections from crash site adjacent to and on the A27 dual carriageway. Poor weather conditions and driving rain continues to hamper the recovery operation.
Crash debris having been identified and measured, photographed, bagged and tagged is following initial on site inspection, scheduled to be transferred to Farnborough later today for detailed testing and investigation. Adverse weather is hampering the recovery.
An interim report will be released as soon as possible Sources initially suggested this will be within 3 months for first headline finding, but tonight, initial findings ready 'within days.' Full report could take some 2 years, unless the pilot currently in a medically induced Coma, recovers sufficiently and debriefs investigators.
Important to note (although this is pure speculation). Loop manoeuvre was not over the A27 as some commentators and TV graphic packages suggest, but aircraft malfunction possibly 'pushed' the doomed jet in that direction, pilot seemingly with limited or intermittent control ie 'dead stick' amazingly levelled aircraft for a hard 'dead stick' landing and appears to be heading for a wooded copse alongside the dual carriageway, but just didn't have the thrust to maintain forward motion, pointing to a possible flameout.
Weather conditions could have caused the condition as the unusually hot morning and midday sun would have to compete with the much colder temperatures and winds coming off sea level and the added complication of the 'Spanish plume' weather sequence which subsequently caused torrential rain in the area hours after the incident...
This earlier accident report , which has only just come to light, featuring a Hawker Hunter may have a bearing on the Shoreham incident: http://aviation-safety.net/wikibase/wiki.php?id=58340
Contrast the American Jet fighter reference picture (ABOVE) indicative of thrust jet gas emission, (admittedly flame colour in picture enhanced by reheat) with the pictures (BELOW) of the doomed Hawker Hunter Jet below. This ties in with reports of 'vapour' limply pouring out of the stricken Cold War vintage display jet. It suffered 'flameout'....

Julian Bray Aviation Expert asks: Does this picture by Chris Watkins

prove jet 'flameout'? Last seconds of doomed Hawker Hunter. No 'flame' visible from rear mounted jet engine outlet

(the F.3, a one-off high speed variant did however have reheat, - RA.7R Avon)

admittedly no reheat facility) as on upper picture - but graphically makes the point) ...just supra hot fuel vapour, seconds from crashing, however it was level and gliding to a heavy landing. Experienced Pilot aiming for pedestrian free wooded copse

but seemingly no forward 'thrust' so effectively no control from the single dead Rolls Royce Avon jet engine. The Pilot in the circumstances did amazingly well to level out an 'out of control ' thrustless Cold War vintage jet..



__________________
The Daily Mail sent through a link to this youtube video, for a split second, if you slow the speed of the tape right down, and stop motion frame by frame, this 'flare' appears, in just one single frame. It isn't a reflection, birdstrike, dust or the sun. Suddenly the flameout option is gaining ground...
_________________


"The likelihood of making a successful dead stick landing in a jet fighter is considered so slight that the military services have wavered on whether "flameout approaches" should be taught at all."
but as we say just speculation at this point.
NEW IMAGE SENT TO INVESTIGATION TEAM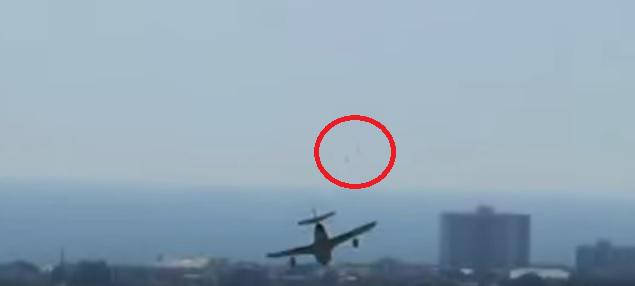 Following a twitter conversation, JDTV have now (Tuesday afternoon), sent details over to the police investigators. This could be vital evidence, one more piece in a very complex jigsaw.
--------------
CIVIL AVIATION AUTHORITY STATEMENT: 'GROUNDS'
HAWKER HUNTER DISPLAY AIRCRAFT AND IMPOSES VINTAGE JET AIRCRAFT RESTRICTIONS WITH IMMEDIATE EFFECT. MAJOR REVIEW OF AIRSHOW RULES.
CAA STATEMENT
http://www.caa.co.uk/docs/33/SD2015003.pdf
Following the accident the Civil Aviation Authority immediately began an urgent review and have, today, announced a series of immediate restrictions and changes to UK civil air displays.

The CAA has announced the following:

• As a precaution, on Saturday 22 August the CAA took steps to ensure no further flights were made by Hawker Hunter aircraft - this temporary restriction remains in place.

• Flying displays over land by vintage jet aircraft will be significantly restricted until further notice. They will be limited to flypasts, which means 'high energy' aerobatics will not be permitted.

• The CAA will conduct additional risk assessments on all forthcoming civil air displays to establish if additional measures should be introduced.

• The CAA commenced a full review of civil air display safety yesterday and held an initial meeting this morning (Monday).

The safety standards that must be met by all major civil air displays in the UK are among the very highest in the world and are regularly reviewed. All air display arrangements, including the pilots and aircraft, must meet rigorous safety requirements. Individual display pilots are only granted approval following a thorough test of their abilities.

The CAA will continue to offer every assistance to the Air Accidents Investigation Branch as it seeks to establish the cause of the accident. The CAA will also act promptly in response to any emerging indications from the AAIB's investigation.

Further details will be provided in the coming days and the CAA will continue to work with the industry to ensure the most appropriate action is taken as a result of this review.
Library Picture: Hawker Hunter Single Seat, note shorter stubby
nose than the long nose
twin [
side by side
] seat
T7 variant
Press Association names three victims
of Shoreham air crash
as
Worthing United footballers
Matthew Grimstone
as well as Matt Jones, Personal Trainer.
More details of the crashed Hawker Hunter WV372 are emerging.
It was originally built as an F4 variant in 1955, but following fire damage was
rebuilt by the RAF as a twin seater T7. WV372 served with RAF No 2 Squadron. The T prefix denotes a Trainer fast jet.
WV372 was built as an F.4 and first flew on 15th July 1955. Delivered to 222(F) Squadron on 2nd September 1955, around a year later her rear fuselage was badly damaged by an in-flight fire caused by hot exhaust gases escaping when the jetpipe detached from the engine.
Returned to Hawkers, she was repaired and converted to a T.7 and returned to the RAF (5 MU) on May 1959. She went on to serve with the RAF Jever and Gutersloh Station Flights, II(AC) Squadron (in whose colours she now flies) and 4 FTS.
After retirement she was one of Jet Heritage's airworthy Hunters and carried out one of her first public displays in 1998.
Since then the aircraft has changed hands several times, having been owned by the Fox One consortium (based at Kemble), then Conciair Ltd and then Hunter Flying (based for some time at Exeter, and part of the short-lived Team Viper display team, before moving to their new base at St. Athan).
She was put up for sale (£65,000) at North Weald, having been stationed there since 2013,
Canfield Hunter Ltd thought to be the current owner.
The sales blurb contained this chilling passage:
A true fast jet capable of over 600knots at low level. A head turner at every air show.
Immaculate Hawker Hunter for sale. 2 seat supersonic T7 Hunter flown on a regular basis. Excellent condition inside and out. Great avionics fit including dual radios, (one is 8.33 spacing) Mode S transponder. KMD 150 moving map GPS. Live ejection seats. Electric start system. 4 × 100 gallon drop tanks giving a 1000 NM plus range. Paint is in authentic RAF camo and in fantastic condition. Engine hours 351. Fatigue index is only 30(very low). Easily shipped anywhere world wide. Excellent spares availability A true fast jet capable of over 600knots at low level. A head turner at every air show.
See more at:
http://www.thunder-and-lightnings.co.uk/hunter/survivor.php?id=266#sthash.O6h1jTtb.dpuf
Serial #: WV372
Construction #:
41H-670818
Civil Registration:
G-BXFI
Model: T.7
Name: None
Status: Airworthy
Last info: 2004



History:
Delivered to RAF as WV372.
- BOC: Sept. 2, 1955.
- SOC: Feb. 27, 1997.
Tom Moloney, North Weald, UK, 1997.
- Registered as G-BXFI
UPDATE SATURDAY 20:45PM
West Sussex Police held a delayed press conference at 20:45 hrs, to update the media on the progress so far.
Police confirmed the pilot was taken from the wreckage, triaged on the spot, then airlifted by Air Ambulance to the Royal Sussex Hospital, Brighton
Locally the pilot is named as Andy Hill, 51,
from Royston,
a former BA Captain who also flew the Harrier Jump Jet.
The Hawker Hunter and the Harrier were both designed by the same person: Sir Sydney Camm
The pilot is in a critical condition, "just hanging on to life."
Seven bodies have been recovered from the A27 crash site, none from inside the air show perimeter. [Later the Police revised the number of people likely to have died as 11, NOW REVISED TO 20]. Although the initial search operation has finished and the recovery phase of the operation has started, unusually further police searches of the area will still take place. It is possible, say police, that more bodies will be found following removal of the burnt out fuselage by a heavy lift crane due to be in place on Monday.
It is often the case that many spectators not wishing to enter the showground (and pay the admission fees)
will quite legitimately watch the aerial display (for free) from surrounding roads and vantage points. These may account for the so far undiscovered, unaccounted for, victims.
Police are working with the Coroner and Victim support. Trained officers will be assisting families of the bereaved. The Next of Kin have yet to be informed.
Paramedics treated 14 people on site for minor burns and injuries.
4 people with severe injuries were taken to hospital.
Police have taken some 40 calls from concerned people and have issued a phone number 01273 4701012.
Police are also appealing for contact details of anyone who may have taken video of the crash incident and surrounding area. Details by email (DO NOT SEND THE VIDEO) local officers will arrange collection once evaluated.
The email address is
shoreham.aircrash2015
@sussex.pnn.police.uk
Police also apologised to visitors to the air show who were prevented from, as exit routes were blocked at part opf the search operation and dealing with injured at the crash site.
Police confirmed the road surface of the A27 has been badly damaged and can only be repaired once the Air Investigation Branch hand the crash area back to them. So the road will be closed in both directions for several days, possibly longer.
__________________________
There are now officially confirmed reports that at least seven people are dead ( although Police now suggest 11 might be the true toll, following an air show display plane (an ex RAF T7 twin seat variant ) which crashed during the popular Shoreham Air Show near Brighton, England onto the busy A27 dual carriageway. The Air Show site has now been fully evacuated, remaining programme cancelled.
______________________________
Earlier Police Statement:
Police ask drivers to avoid A27 after air crash at Shoreham
22 August 2015
Police are advising all drivers to avoid the A27 in the Shoreham area for rest of today, Saturday (22 August) after a an aircraft has crashed.
At about 1.20pm the aircraft hit several cars on the A27 just to the north of Shoreham Airport, where an air display is taking place. The aircraft ended up in a bush. There have been several casualties but we have no further information on these at the moment.
The A27 has been closed in both directions and drivers are asked to avoid the area until further notice.
Further information will be released as soon as possible.
_________________________
Witnesses are describing an explosion as the Hawker Hunter - first aerial event of the afternoon - display aircraft crashed onto the A27 and continued into a wooded copse alongside the A27, (now closed) near Lancing College, there are several fatalities seven so far and others on the critical list including the pilot - the casualties are motorists and passengers, several vehicles involved, possibly two motorcycles.
Local sources backed by camera phone video suggest the aircraft was flying 'very low ' then crashed onto the busy A27 - traffic was at a standstill at the point of impact - a large volume of black smoke quickly developing into a fireball.
Informed sources are suggesting that 'clear weather turbulence' may be a factor, where unexpected highly localised wind shear conditions can be encountered. But this is just one of many speculations in aviation circles. Local pilots meanwhile are reporting excellent flying weather.
Local hospitals declared an NHS major incident plan, emergency responders were quickly on the scene, and at least two air ambulances scrambled. Some 'walking wounded' self reported to nearby hospitals in West Sussex.
The Hawker Hunter, a subsonic British designed and built jet aircraft launched during the 1950s. The single-seat Hunter entered service described "as a manoeuvrable fighter aircraft." The display plane involved, was looking at the crash video footage ,the two seater T7 variant, often used for training and aerial photographic work. The nose of the aircraft is longer. There are dozens still flying both as operational training aircraft, many with UK based organisations.
Over 2000 were produced, and some 600 totally rebuilt 'as new' in the 1970s at the Dunsfold factory. Prematurely retired in the 1990's due to the 'ending' of the Cold War. The Hawker Hunter was designed by Sir Sydney Camm, who also created the Hurricane and the iconic Harrier.
Small overseas air forces still fly them, and it remains a favourite on the air display circuit
. Display pilots are highly experienced, and the aircraft carefully maintained, meeting (usually exceeding) all air display licencing requirements.
The Shoreham Air Show was set to have a full two day programme of both static and aerial flying displays from over 50 aircraft, a special feature WWII aerial 'dog fight' with the Hanger 11 aircraft collection display team to mark the 75th anniversary of the Battle of Britain.
Other classic wartime aircraft including the 'Sally B' B-17 Flying Fortress ( based at IWM Duxford ) were due to attend or fly over the air show site.
Air Accident investigators are on site, and a formal air accident investigation has already been opened, some two hours after the incident. The crash site on the A27 is expected to remain sealed off for the rest of the weekend and most of next week.
This latest air incident is just weeks after another jet display plane crashed during a Radio Host Chris Evans sponsored Carfest event.
JULIAN BRAY +44(0)1733 345581, Journalist, Broadcaster, Aviation Security & Operations Expert, Travel / Maritime & Cruise Industry, EQUITY, NUJ, Broadcast COOBE ISDN ++44 (0)1733 345020 (DUAL CODEC) SKYPE: JULIAN.BRAY.UK e&oe Cell: 07944 217476 or iPhone 0743 530 3145 www.aviationcomment.com # # # VENDOR 10476453 http://feeds.feedburner.com/BraysDuckhouseBlog