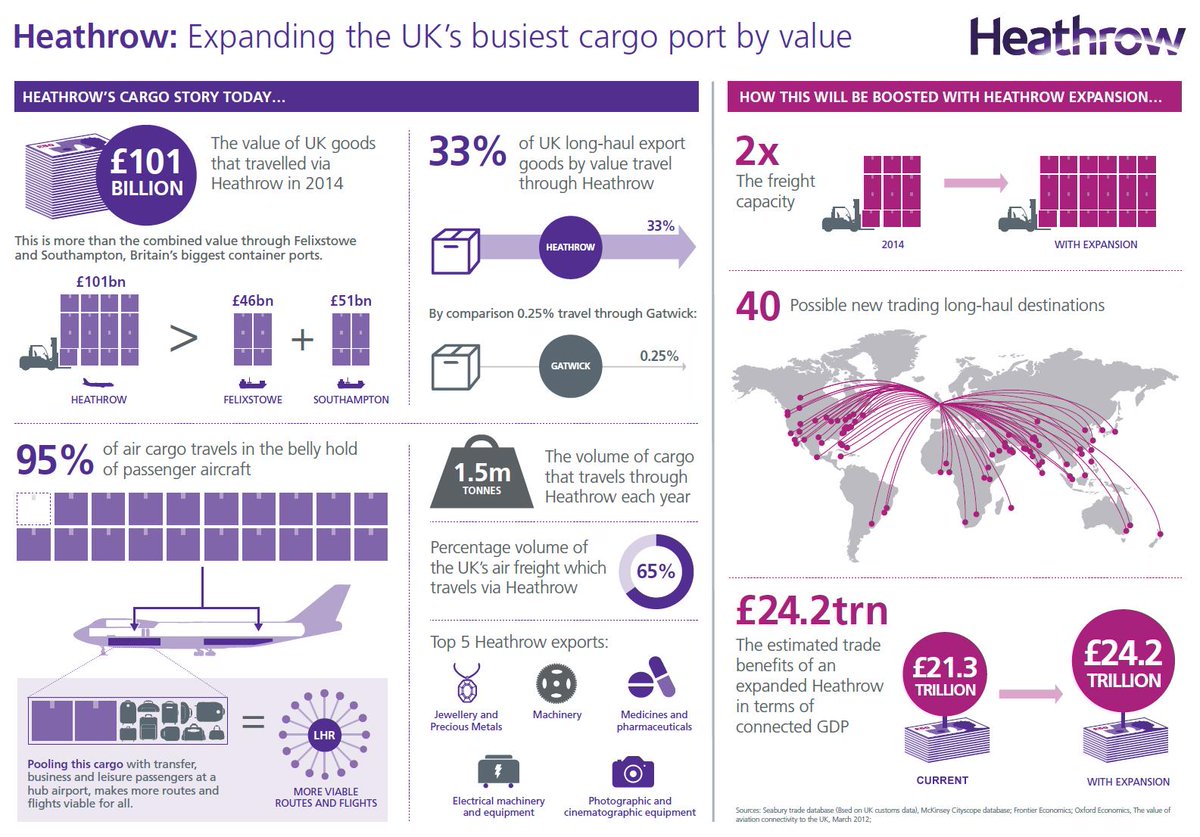 Click on picture to enlarge
Julian Bray writes: With the news reported by Press Association that UK Government Ministers have been told NOT to discuss the third runway expansion of London Heathrow. I rashly suggested on Twitter that all Air Cargo should be moved out of #LHR and spread around our other airports.
In less time than it takes to clear the passenger gate at Terminal 2, a response from @YourHeathrow , a lobby twitter account on behalf of the airport, pops up with the amusing fact that all 1.5million tonnes (per annum) less 5% of Air Cargo shipments through Heathrow are safely in the belly hold of passenger aircraft and that after the third runway the cargo component will sky rocket.
The problem conveniently overlooked by the YourHeathrow spinbot, of course, is that HEATHROW is in the middle of several high density residential neighbourhoods, the surrounding transport structure, roads etc is already under pressure as anyone stuck in rush hour and holiday traffic jams will confirm.
Its all very well moving cargo through Heathrow, but if the bottleneck is getting it into and out of the airport, it makes the case very strongly for putting the likes of say DHL and its 100% cargo payload Airbuses elsewhere. DHL have now introduced a helicopter transit shuttle service from Heathrow to London City so that small letter/packet air freight can bypass chronic road traffic delays and reach the DHL Heathrow Airport hub that much faster.
As they say I rest my case (err,but not on a Heathrow conveyor!)
So clear cargo out of Heathrow and site it at Stansted or Gatwick. No access problems, unless Heathrow wish to take in the cost of reworking their figures, including expansion of all the approach and exit routes and surrounding motorways, or are they hoping the taxpayer will pick up that bill? No wonder ministers have been told to keep any discussion off the table. Its known as the mushroom policy "Keep 'em in the dark, and feed 'em on poo!" The Airport Commission has opened up more questions, than have been answered.... Look at this Press release from May 2007:
DHL continues to operate Heathrow Consolidation Centre (HCC)
May 16, 2007 (United Kingdom)
DHL Exel Supply Chain has won a £10 million contract renewal over three years with BAA to continue to operate the Heathrow Consolidation Centre (HCC) on behalf of Heathrow Airport Limited (HAL).

As part of its investment strategy for the airport logistics business, DHL has made firm commitments to future development and innovations at HCC including the initial deployment of a £75,000, 9 tone electric vehicle, the first electric retail delivery vehicle operating within an airport environment.

The contract will be managed by the Department Stores & Fashion business unit of DHL Exel Supply Chain which was instrumental in supporting the evolution and development of the consolidation centre concept, as a means of reducing congestion and carbon emissions. The new electric vehicle has zero local carbon emissions, and is one of the first in the world to be developed using new battery and component technologies.

Since its launch in 2001, the HCC has dramatically eased congestion within the airport with a huge reduction in vehicle movements of participating retailers and therefore has significantly reduced BAA's airport carbon emissions.


The deployment of the electric vehicle within the airport and City Centre consolidation operations is further development of DHL's commitment to reducing the impact on the environment of retail distribution.

The Heathrow Consolidation Centre (HCC) serves the landside and airside retailers at the airport, and DHL Exel Supply Chain provides a multi-temperature, multi-product cross dock and delivery platform for all suppliers from specialist catering, bookshops and retail outlets for terminals 1 to 4.

The HCC forms an integral part of HAL's strategy for the development of the airport logistics strategy including air quality improvements and a sustainable distribution model as a robust and cost effective infrastructure that supports the growth of retailing at the airport.
JULIAN BRAY +44(0)1733 345581, Aviation Expert, Journalist, Broadcaster, Aviation Security & Airline Operations Expert, Travel / Maritime & Cruise Industry, NUJ & EQUITY LIVE ISDN LINK , Broadcast ISDN COOBE ++44 (0)1733 345020 (DUAL CODEC) SKYPE: JULIAN.BRAY.UK e&oe Old faithful NOKIA: 07944 217476 iPhone 0743 530 3145 LANDLINE 01733 345581
www.aviationcomment.com
Contrib. Account #104764 53 FEED
http://feeds.feedburner.com/BraysDuckhouseBlog