"A lick of paint, change the oil, just like new Gov!"
Julian Bray writes: The defence spending review is due to be published on Monday and it will be the one of the biggest mistakes this Government is likely to make. The mistake will be along the lines that 'a camel is a horse built by a committee'.
Too many sectional factions have had a finger in the financial pie and advance drafts of the final report suggest that it is trying to please all people and Treasury austerity policies but in the process falls well short of what is required to keep us safe in a dangerous world..
Military men and women in uniform simply distrust the men in suits and frankly this isn't about effective highly adaptable defence strategies for this island but a cobbling together of existing cut back programmes and a financial policy which seeks to skimp on the final delivery of each module.
Simply it is a disaster that will please no one except Jeremy Corbyn and that is on the basis none of the new bits really fit, so if a major event occurred, we would be hard pressed to mount a joined up defence.
The problem seems to be having already announced so many changes to our defence strategy, the spending revue can never start with a clean sheet, so it has to skirt around existing projects and circumstances rather than allocate defined clear cut budgets with a properly set out timetable, so some essential long term planning can be undertaken.
They've done the same to the railway industry. And there is even confusion over who will present the defence spending review. It will fall to the Prime Minister, who knows diddly squat about defence in general.
So that is why Jeremy Corbyn will be silently thanking the Tories as he well knows, this is a curates egg, only the Curate quit long ago and Mother Superior (Mrs May) has effectively taken over with the Chancellor looking over her shoulder. Omnishambles....No Mega Omnishambles....
UPDATE SUNDAY
I've repeatedly pointed out that when we do get finally get an aircraft carrier, there will be few aircraft to put on it and thankfully the Treasury is now following this blog, indeed skilled technicians are currently being laid off by British Aerospace Systems. Well as the Treasury now seems to be running the Ministry of Defence procurement programme. Some better news has just been reported by Press Association:
Last updated: 22 November 2015, 00:40 GMT
The purchase of new fighter jets is to be speeded up, Chancellor George Osborne said, as he promised funding to ensure the Royal Navy can deploy one if its new aircraft carriers at all times by 2023.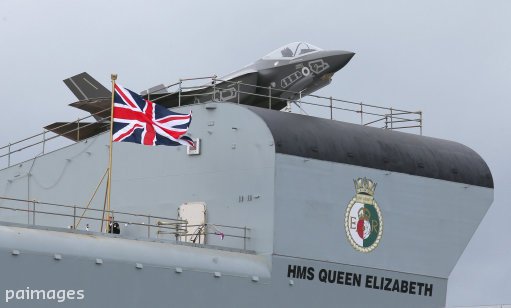 Ready! Aye! Ready! But not until 2023, and then we need some aircraft...
The Ark Royal (stripped of its HMS) on its final voyage - to the scrapyard, to be broken up...
Details of the upgrade will be at the centre of the Government's Strategic Defence and Security Review (SDSR), due to be set out to the Commons by Prime Minister David Cameron tomorrow.
Mr Osborne said the move would put the UK second only to the US in carrier capability and mean it could respond to threats "wherever and whenever necessary".
The Government had proposed to have only eight of the US-built F35 Joint Strike Fighter aircraft available for deployment to the new carriers HMS Queen Elizabeth and HMS Prince of Wales by 2023.
That has now been trebled to 24 - all in strike roles if required - with the 18 others on order being used in the training fleet or in maintenance, the Chancellor told the Sunday Times.
Capability could be temporarily "surged" to 39 jets to respond to specific threats.
Defence spending received a boost in the Budget, when the Chancellor declared that the UK would continue to meet a NATO target to devote at least 2% of national wealth to defence.
It has already been announced that the SAS and other special forces will get an extra £2 billion to improve their equipment, the RAF will double its number of drones, an extra £1.9 billion will be spent on cyber security and 1,900 new spies recruited.
The SDSR is also expected to reveal that the expected cost of renewing the UK's nuclear deterrent has risen - with the SNP warning against cutting the number of anti-submarine frigates to be built in Scotland to compensate.
Enhancing the carrier capability to ensure at least one is available would enable the UK to contribute to international missions such as the one against Islamic State (IS) from the Gulf, source said.
It was also claimed, the Sunday Times said, that it would mean the UK was able to respond to any future attempt by Argentina to invade the Falkland Islands, something critics have claimed Britain can no longer do.
Mr Osborne said the policy "was also [possibly] worth £29 billion to the UK businesses" in the supply chain, including BAE, Rolls-Royce and ejector seat manufacturer Martin Baker.
"My spending review this week is all about security - national and economic," he said ahead of unveiling spending plans for the rest of the parliament on Wednesday.
"The decisions we are taking to restore sanity to the public finances left by Labour mean we can invest in our priorities - including world-class defences so we can protect our interests and our people.
"By bringing forward the purchase of the world's most advance stealth fighter jets, we will enhance our ability to respond to threats wherever and whenever necessary.
"With more jets on board, our independent aircraft carrier capability will be second only to our closest allies, the Americans.
"These are versatile multi-role fighter jets, able to engaging in air-to-air and air-to-ground combat, giving us the ability to deal with evolving threats.
"And of course, British businesses and workers will benefit from this decision too, which is [possibly] worth £29 billion to the UK supply chain."
JULIAN BRAY +44(0)1733 345581, Aviation Expert, Journalist, Broadcaster, Aviation Security & Airline Operations Expert, Travel / Maritime & Cruise Industry, NUJ, EQUITY, LIVE ISDN LINK, Broadcast ISDN COOBE ++44 (0)1733 345020 (ALL CODECS) e&oe Old faithful NOKIA: 07944 217476 iPhone 0743 530 3145
www.aviationcomment.com
Contrib. Account #104764 53 FEED:
http://feeds.feedburner.com/BraysDuckhouseBlog