Air France flight AF 463 from Mauritius to Paris, made an emergency landing at Moy Airport, Mombasa, Kenya, East Africa, after a suspect package was found concealed in the washroom on board, by passenger and confirmed by a Stewardess.
Kenya officials have now at 12:45 UK time confirmed it was a DUMMY device, initially described as 'a watch strapped to a box.' but now described as a kitchen timer attached to a box.Police are interviewing 'six people of interest' of which two persons are thought to have physically manipulated the suspect package.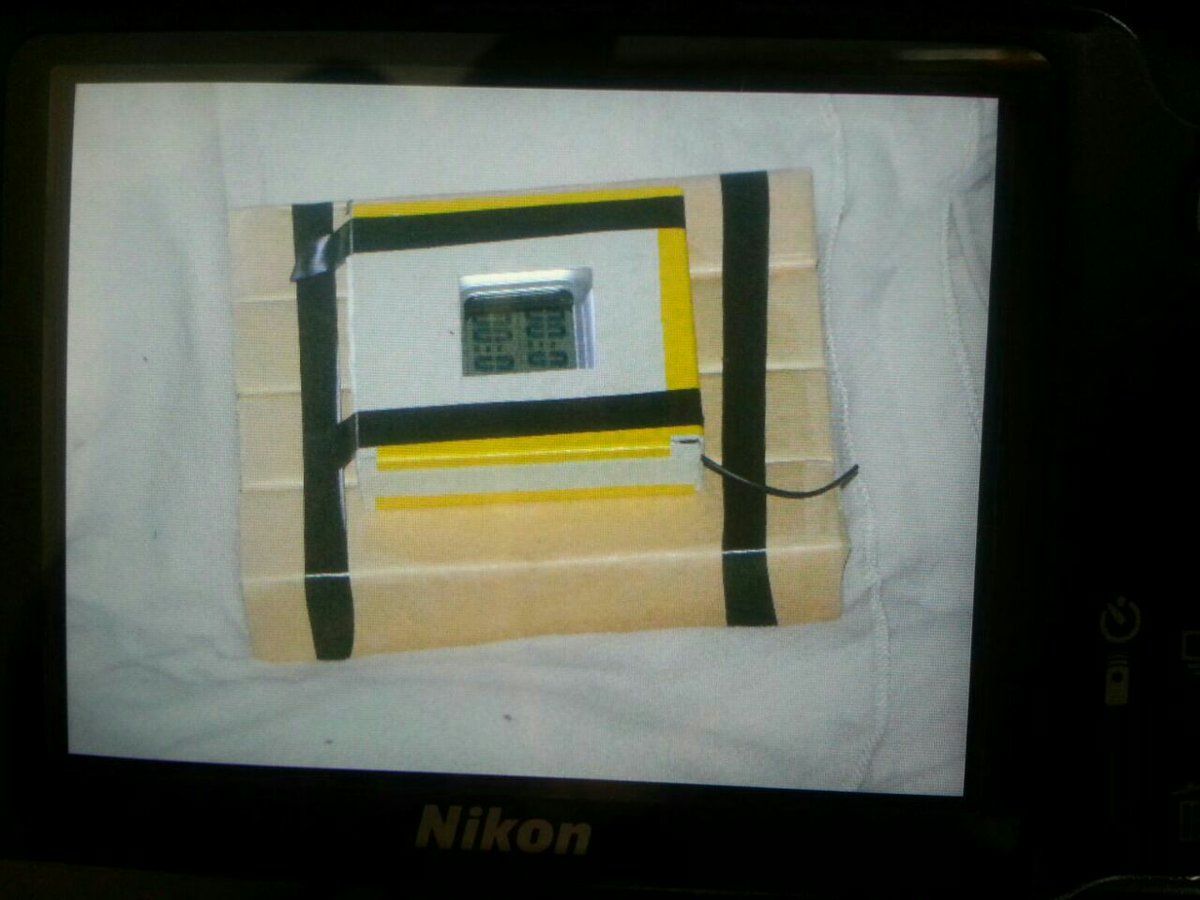 Suspect device recovered from Air France aircraft by Kenyan Navy Bomb Squad in Mombasa.
Julian Bray Aviation Security expert had moments before the official confirmation of a dummy device by Kenya suggested live on RT Television News, that any package found in such an obvious location, could well be a hoax or dummy device, simply as it is difficult to conceal items in the washrooms on board a Boeing triple7. But the simple fact that a dummy device was taken on board, undetected is of prime concern and will be treated by the Courts as if it were a viable device..
The pilots of the Skyteam liveried Air France Boeing Triple7 requested an Emergency landing at Moy International Airport in Mombasa after the package was found.
The aircraft was safely evacuated, the suspect device removed by the Kenyan Navy Bomb squad and local police. It is now being examined, police spokesman Charles Owino said.
As a precaution the airport was also evacuated. Two passengers were detained by the Kenyans for questioning, the remaining passengers eventually re-boarded, and the flight continued to France.
The plane with 459 passengers and 14 crew members, departed Mauritius at 01:00GMT.
and scheduled to fly direct to Charles de Gaulle Airport, Paris, France. No organisation has so far claimed responsibility.
JULIAN BRAY +44(0)1733 345581, Aviation Expert, Journalist, Broadcaster, Aviation Security & Airline Operations Expert, Travel / Maritime & Cruise Industry, NUJ, EQUITY, LIVE ISDN LINK, Broadcast ISDN COOBE ++44 (0)1733 345020 (ALL CODECS) e&oe Old faithful NOKIA: 07944 217476 iPhone 0743 530 3145
www.aviationcomment.com
Contrib. Account #104764 53 FEED:
http://feeds.feedburner.com/BraysDuckhouseBlog