YORK & CALDERDALE FLOODING: BBC LOCAL RADIO EMERGENCY BROADCASTS
An earlier flood event in Whalley, Lancashire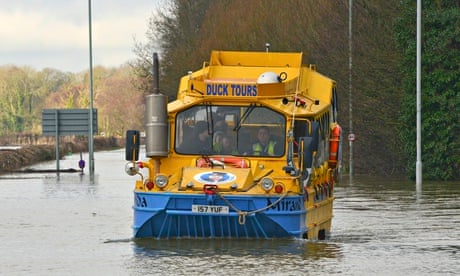 A year ago: The ramshackle, make-do-and-mend nature of flood rescue efforts in the Thames-side village of Wraysbury became apparent when a distinctive yellow amphibian tourist boat was halted by a cry for help from an inundated house.
Perhaps COBRA could co-opt a few DUKWs ?
UK Flooding map 27 December 2015 Orange denotes major flood alerts.
Red a suggests life threatening event
Julian Bray writes: In Lancashire, England some 5 inches of rain is set to fall over the next few hours on already saturated ground. Local rivers have burst their banks. The UK Met Office has issued the highest level RED 'DANGER TO LIFE' flood warnings. This is unprecedented.
More than two hundred flood alerts and warnings have been issued covering North West England, Scotland and Wales, seven severe warnings in Lancashire alone. To add to the misery, a new major storm system, adding storm force winds to heavy downpours is also on its way and expected to impact region on Tuesday
Live television news footage this morning from the village of Whalley (at 9am Boxing Day) shows that within a space of 20 minutes, water levels have physically risen, and now entering already flood damaged (from recent previous events) rows of terraced houses.
This is the third time they have been severely flooded in a space of three weeks.
Unlike previous incidents, the Army has been deployed early in Cumbria, setting up some 85% of the UKs' available stock of temporary flood barriers, and thousands of sandbags put in place. Slow backbreaking work as they have been working though the night. Inflatable boats and high axle military transports are also in place, and in places an evacuation of residents already underway.
Front door temporary flood boards are proving to be useless, as residents say floodwater and effluent is seeping up through floor boards and through unprotected back doors... More than 200 flood alerts and warnings have been issued in North West England, Scotland and Wales, with seven severe warnings in Lancashire.
JULIAN BRAY +44(0)1733 345581, Aviation Expert, Journalist, Broadcaster, Aviation Security & Airline Operations Expert, Travel / Maritime & Cruise Industry, NUJ, EQUITY, LIVE ISDN LINK, Broadcast ISDN COOBE ++44 (0)1733 345020 (ALL CODECS) e&oe Old faithful NOKIA: 07944 217476 iPhone 0743 530 3145
www.aviationcomment.com
Contrib. Account #104764 53 FEED: http://feeds.feedburner.com/BraysDuckhouseBlog