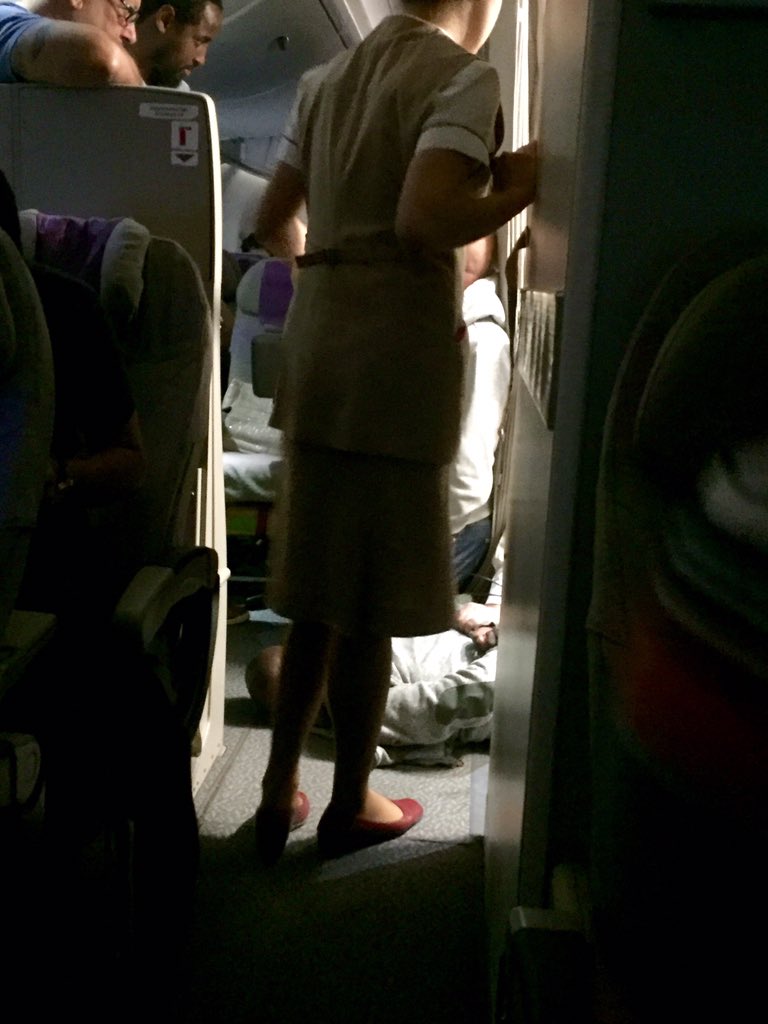 Twitter picture Dr Farah Jameel
An airline passenger launched a violent attack on Emirates cabin crew during a flight from Dubai to Heathrow which allegedly included headbutting a crew member. Reports suggest the male was forced to the floor during Emirates flight EK005 and restrained by staff and a policeman who was on the flight.
On arrival at Heathrow, London landing about 8pm on Sunday, the male now restrained and hooded to prevent biting and spitting, was immediately arrested by Airport police and taken to the airport police station.
A witness recounted how the man had his hands and legs tied, and had a mask put over his face to prevent him from biting anyone. The incident marks a trend following trouble on an Air Mediterranee flight from Algiers to Paris last week where a shirtless passenger was said to have urinated on another traveller, sparking a massive brawl after being denied cigarettes and alcohol.
Passenger Dr Farah Jameel said the violent incident began in the aircraft galley food preparation area of the plane. The Doctor described how the man was pinned to the ground and bound with "some sort of black rope" as well as a spare seatbelt. Jameel, who is deputy chair of the British Medical Association's equality and inclusion committee, told the
Evening Standard
: "The guy was pinned down and they had tied him up. His hands, legs, and even someone holding his head.
The man was said to have been restrained for over two hours before police "swarmed" the plane at Heathrow and arrested him. A spokesman for Scotland Yard said they received a call at 5.30pm on Sunday about "a violent passenger" and later arrested a 30-year-old Dutch national on suspicion of common assault. The man remains in custody at Heathrow police station.
The spokesman said police are not treating the attack as an act of terrorism incident.
An Emirates spokesman confirmed that an "unruly passenger was restrained by cabin crew" and handed over to "authorities" in London.
The spokesman added: "The safety of our passengers and crew is of critical importance and will not be compromised.
"As the matter is now under police investigation Emirates cannot comment further on the incident."
Source:MetPolice, CNS, BBC, PA, Huffpost
JULIAN BRAY +44(0)1733 345581 Aviation Expert, Journalist & Broadcaster, Aviation Security & Airline Operations Expert, Travel / Maritime & Cruise Industry, NUJ, EQUITY, LIVE ISDN LINK, Broadcast ISDN COOBE ++44 (0)1733 345020 e&oe Old faithful NOKIA: 07944 217476
www.aviationcomment.com