Julian Bray will be discussing this live on BBC Local Radio Stations on the #DRIVETIME programme, at various times between 4pm and 6pm. Thursday March 3rd 2016. Join the conversation...
International investigators searching for the missing Malaysia Airlines Flight MH370 are examining pieces of debris near the Mozambique coast that could only have come from a Boeing 777, say reports.
The aircraft disappeared on March 8, 2014.
Twelve crew and 227 passengers were on board the routine scheduled flight from Kuala Lumpur to Beijing. Click this link for Julian Brays earlier reports.
The object was found stranded on a sandbank in the Mozambique Channel, over the weekend and first reports suggest it may have come from Flight MH370 which literally vanished off radar screens some two years ago.
A Malaysian official rated it a "high possibility" the Mozambique debris is from a Boeing 777.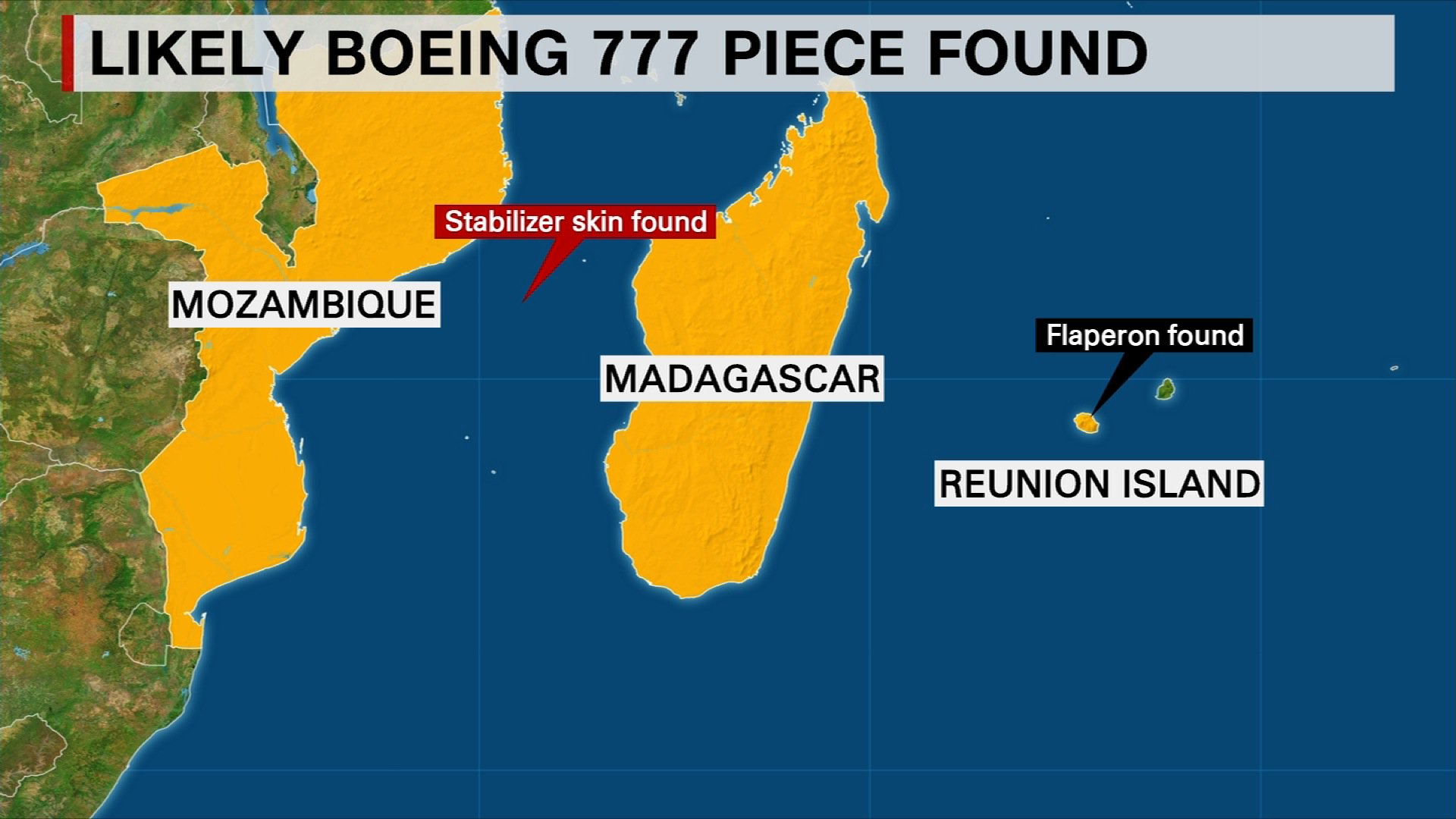 Courtesy: CNN Graphics
The only evidence of the missing aircraft so far is a single wing section 'flaperon', recovered from the eastern shoreline of Reunion Island, to the east of Madagascar last July, but in the same geographic sector of the southern Indian Ocean as this new find.
.
The 'flaperon' section was examined and verified by French aviation experts at laboratories in Paris after some five weeks of forensic tests.
Engineers are reportedly looking at the photos of this latest discovery.
Julian Bray aviation expert commented: This latest find has the words 'NO STEP' painted or applied to it and this clearly suggests could be from a Boeing 777 wing component. NO STEP would be applied to the upper skin area of a wing assembly where the upper facing skin section is not designed to support the weight of say an aircraft engineer or passenger possibly escaping from the overwing emergency exit and would be consistent with the previous 'flaperon' find.
Further identification and manufacturers markings could well be found stamped on internal
sections of the debris. In addition, any barnacle encrustation and marine degradation will be examined and compared with specimens recovered from the 'flaperon' as will paint, material and fixings samples. Simply like fingerprints there are many local variants of encrustations, and these can be used to identify geographical areas.
The Malaysian Minister Of Transport, Liow Tiong Lai, asserted that it is highly likely the debris came from a Boeing 777, but cautioned people not to speculate whether it came from the missing jet.
Sources: BBC, AP, AFP, REUTERS, CNS, UNCAO, ABC, HuffPost,
EARLIER REPORTS :

http://julianbrayrecessionbuster07944217476.blogspot.co.uk/search?q=MH370
JULIAN BRAY +44(0)1733 345581 Aviation Expert, Journalist & Broadcaster, Aviation Security & Airline Operations Expert, Travel / Maritime & Cruise Industry, NUJ, EQUITY, LIVE ISDN LINK, Broadcast ISDN COOBE ++44 (0)1733 345020 e&oe Old faithful NOKIA: 07944 217476 www.aviationcomment.com