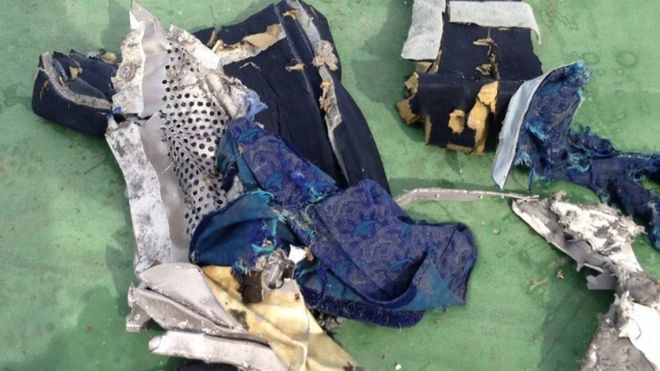 Source: Egyptian Armed Forces photograph
Julian Bray writes: As frequently and strongly suggested by my Aviation security blog, the two damaged flight data and cockpit voice recorders from the EgyptAir aircraft that crashed last month will be sent to France for 'repairs' according to Egyptian investigators.
In what is seen as an official face saving operation. They claim memory chips from Flight MS804 which contain vital information will be shipped to French experts early next week.
In a statement, the Egyptian investigative committee said the two recorders would be sent to France's BEA accident experts to remove salt deposits from the memory chips. Clearly the BEA Centre in France has the most sophisticated equipment to deal with the black boxes, far in excess of that held in Cairo.
But the Egyptians claim the 'repaired' units will then be to Egypt for analysis. We and many well-placed aviation sources believe the Egyptians will covertly ask the French to carry out all the work, then pass the findings in confidence back to Cairo, so the 'credit' can be claimed by the Egyptian officials.
The recorders contain the pilots' conversations and technical parameters of the flight - could help determine the cause of the crash.
The Egyptair Airbus A320 was flying from Paris to Cairo when it vanished from Greek and Egyptian radar screens, apparently without having sent a distress call.
Wreckage was later found some 290km (180 miles) north of the Egyptian port city of Alexandria and just inside the 'Egyptian Area of Responsibility.'
JULIAN BRAY +44(0)1733 345581 Aviation & Crisis Management Expert, Journalist & Broadcaster, Aviation Security & Airline Operations, Travel / Maritime & Cruise Industry, NUJ, EQUITY, LIVE ISDN LINK, Broadcast ISDN COOBE ++44 (0)1733 345020 e&oe Old faithful NOKIA: 07944 217476 www.aviationcomment.com