With the encouraging news that Paris has 'repaired' and returned the two recorders (the so called 'black boxes) recovered from the wreckage of Egyptair Flight MS804 also comes information that the Paris prosecutor has formally opened a manslaughter investigation into last month's EgyptAir plane crash.
Speaking to the Associated Press news agency a spokesperson confirmed that it would be set up as as an accident inquiry, because there was no evidence, so far, to link it to an act of terrorism.
The authorities, at this stage are "not at all" favouring the theory, Airbus A320 was brought down deliberately.
The Airbus part of the Egyptair fleet Flight on flight MS804 departed from Paris and was on a night flight to Cairo. It crashed in the Mediterranean Sea just outside what is known as the Egyptian Area of Responsibility (Egyptian Airspace) on 19 May, killing all 66 people on board.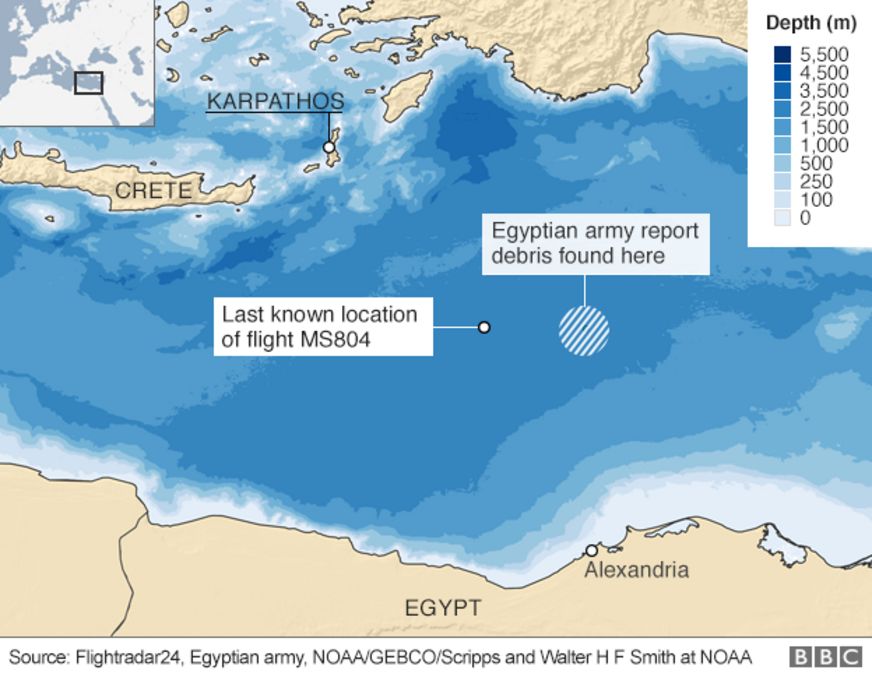 The flight recorders were recovered by a submersible vehicle, and cut from the plane's wreckage, some 290km (180 miles) north of the Egyptian coast and at a depth of about 3,000m (9,800ft).
Automated electronic engineering service messages, sent by the plane when it was in range of a departure ground station, suggested that smoke detectors went off in a toilet and in the avionics area below the cockpit, minutes before the plane's signal was lost.
Radar tracking data also shows the plane physically turned 90 degrees left and then 360 degrees to the right, dropping from 11,300m (37,000ft) to 4,600m (15,000ft) and then 3,000m (10,000ft) before it disappeared.
This could be the 'fly-by-wire' computer control system frantically switching using multiple back up systems to try and keep the aircraft on the pre-programmed heading. But as this is pure speculation we will have to await the outcome of the official investigation.
Source: BBC News, CNS, Associated Press
JULIAN BRAY +44(0)1733 345581 Aviation & Crisis Management Expert, Journalist & Broadcaster, Aviation Security & Airline Operations, Travel / Maritime & Cruise Industry, NUJ, EQUITY, LIVE ISDN LINK, Broadcast ISDN COOBE ++44 (0)1733 345020 e&oe Old faithful NOKIA: 07944 217476 www.aviationcomment.com