MG is to stop making cars at its Longbridge, Birmingham plant and is moving production to .......... China !
The firm said vehicles in future will arrive in the UK "fully built ready for distribution". The move of production to China,
will immediately cause 25 redundancies although the company claims that sales, marketing and after-sales operations are currently at and will remain at the Longbridge plant.
The first new MG for 16 years rolled off the production line in the West Midlands in 2011.
It marked the first large-scale production at the plant near Birmingham since the demise of Rover in 2005.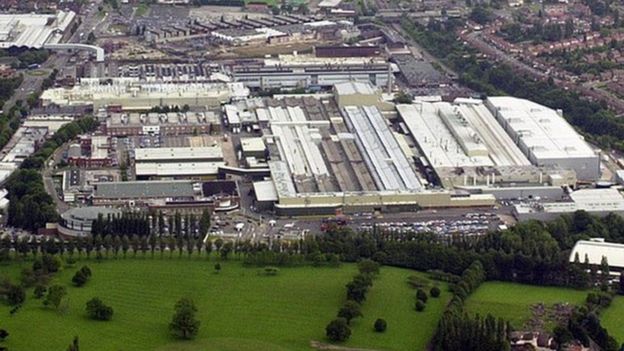 Longbridge, no longer financially viable for manufacturing, cannot compete with China ....
More than 400 design engineers and other staff at the SAIC Motor Technical Centre (SMTC) at the site and MG Motor employees are not affected.
Two models are currently designed and assembled in Birmingham - MG3 and an SUV, the MG GS - sales are increasing, the company reporting a total year on year rise of 18 per cent.
Matthew Cheyne, of MG Motor UK, said moving production abroad was "a necessary business decision".
Not taking that view is Richard Burden, Labour MP for Birmingham Northfield, he criticised the decision, "hugely disappointing and premature".
"I understand the business concerns that MG have surrounding costs of assembly at Longbridge, aggravated by problems with the strength of the pound (sterling)," he said.
"However, more discussions should have taken place to explore alternatives and options before any decisions were finalised."
He said the government was willing to meet MG to discuss options and he had hoped the announcement would not be made until further talks had been held. Clearly that will not now take place.
Julian Bray commented: China has long been dumping very cheap steel on world markets, so the move to China would seem to be designed to take advantage of substantive cost savings at all stages of manufacture and assembly. Just to 'rub salt into the wound' the manufacturing assembly plant will all be crated up and shipped out to China.
Source BBC, CNS,
JULIAN BRAY +44(0)1733 345581 Aerospace & Incident Management Expert, Journalist & Broadcaster, Aviation Security & Airline Operations, Travel / Maritime & Cruise Industry, NUJ, EQUITY, LIVE ISDN LINK, Broadcast ISDN COOBE ++44 (0)1733 345020 e&oe Old faithful NOKIA: 07944 217476 www.aviationcomment.com