This thread is now complete and any new updates will be as new posts.
CAUTION: although the UK Government has now amended its travel advice to UK Citizens, be aware that widespread upset still exists in the country and that many experienced hotel staff have quit and fled to neighbouring countries.
https://www.gov.uk/foreign-travel-advice/gambia/print
Thomas Cook EVACflights update link: https://www.thomascook.com/travel-updates/#intcmp=TopNav_TravelUpdates
+++++++++++++++++++++++++++++++++++++++++++++
BREAKING NEWS
NEW GAMBIAN PRESIDENT BARROW TO BE SWORN IN AT 4PM (16:00HRS THURSDAY) AT THE GAMBIAN EMBASSY IN SENEGAL
+++++++++++++++++++++++++++++++++++++++++++++
The Gambia's leader Yahya Jammeh has now agreed to step down and leave the country, his successor.
Adama Barrow the ingoing president released the news on social media, the agreement is said to have been reached - after several hours of hours of talks brokered by neighbouring West African countries - suggesting Mr Jammeh fully accepts the result of the election.
Several African nations deployed military assets and troops physically in The Gambia with the understanding that if Mr Jammah did not leave, then force would be employed.
Mr Barrow was sworn in at the Gambian Embassy in Senegal on Thursday. The Embassy deemed to be part of Gambia. and therefore 'on sovereign Gambian soil'
STATE OF EMERGENCY Update:
07:00hrs 19th January 2017
West African leaders have been trying to persuade outgoing President Yahya Jammeh to hand over power to President-elect Mr Barrow, a successful local estate agent and property developer, who according to the BBC
reportedly once worked as a security guard
at an Argos store in north London. However President Jammeh says he has extended his tenure by three months and challenged the election and is seeking a judicial review, only that it will require Judges from Nigeria and that will not happen any time soon. This legal impasse technically ensures the outgoing President Jemmeh cannot be arrested and charged with alleged multiple counts of corruption and violence over many years.
Local residents and tourists are fleeing the country, with many local services and utilities closing due to lack of technical staff. All roads out of the country are packed with vehicles and people leaving, fearing violence, if the political situation rapidly deteriorates.
Local sources are now suggesting that President-elect Barrow could meanwhile be appointed President at the Gambian Embassy in Senegal, and thus comply with the protocol that he must be standing on Gambian soil to be sworn in.
The embassy in Senegal is considered to be part of sovereign Gambia.
So far, at least
26,000 Gambians have fled
to neighbouring Senegal after Jammeh
declared a state of emergency
on Tuesday.
Gambia is one of Africa's smallest countries and has had just two rulers since independence in 1965.
It is completely surrounded by Senegal and the Atlantic Ocean.
Jammeh seized power in a coup in 1994 and his government has gained a reputation among ordinary Gambians and human rights activists for torturing and killing opponents.
Meanwhile the emergency air evacuation continues with several countries now attempting to secure the few available take off and landing slots at the airport. UK Thomas Cook [TC] suggest their air evacuation will be completed by Friday.
in a statement they said: Banjul airport has limited check-in and departure facilities compared to UK airports and operating with a reduced number of local staff [many having fled the country] because of the situation.
Over the next two days [Thurs/Friday] TC will be operating nine extra flights from Banjul airport, in addition to two scheduled flights, to bring home remaining UK customers.
By the end of Friday 20th January, if all goes well, TC expect to have brought home approximately 3,500 passengers on a total of 16 evac emergency flights.
24:00hrs 18th January 2017
A deadline of midnight tonight has already been lawfully set for president elect Adama Barrow to take over from incumbent President Yahya Jammeh. In any case all President Elect Adama Barrow is required to do is enter Gambia and be sworn in as President - as long as he is physically standing on Gambian soil - he can be sworn in.
The moment that is done, President Barrow can - if he so wishes - call on military force (from West African countries [ECOWAS]mainly drawn from Nigeria and Ghana) to assist.
A Nigerian Presidential spokesman confirmed late this evening a Nigerian Navy warship, Nigerian Air Force military aircraft (2 X Hercules 2
2-4 Military Jets) PLUS Nigerian and Ghanain Army troops are already waiting in neighbouring Senegal. Ready to act under the authority of
The Economic Community of West African States (ECOWAS)if the new President Barrow, so desires. They will also evacuate West African nationals as required.
The troops will also safely escort the outgoing President
Yahya Jammeh to Nigeria, where he has already been offered sanctuary.
Clearly if the outgoing President decides not to make an issue of it,and departs peacefully, the remaining emergency evacuations of holidaymakers will go ahead. The only problem would be that if hostilities break out the first target or objective for the incoming forces will be the airport.
20:00hrs 18th January 2017
Save the Children tonight warn of impending widespread humanitarian disaster if fighting breaks out.
http://www.savethechildren.org.uk/2017-01/risk-humanitarian-emergency-gambia-and-senegal-tens-thousands-children-are-displaced
18:00hrs BST 18th January 2017
Thomas Cook Director Paul Hutchinson say the firm is operating evacuation flights over three days the last day being Friday. They have allocate 3,500 seats, package tour customers are being moved first simply as they are easier to locate, but independent travellers (possibly Winter term residents) asked to make themselves known. Details on website.
17:00 HRS SENEGAL TROOPS ARE MOVING 'IN LARGE NUMBERS' TO THE GAMBIAN BORDER (AGENCIES)
GUESTS INSIDE HOTELS ARE ADVISED TO BE PACKED AND READY TO DEPART AT SHORT NOTICE. DRESS MODESTLY FOR TRANSIT.
Although the resort may still seem to be outwardly relaxed and in holiday mode, conditions can rapidly change.
Scope out emergency instruction card for your hotel and room (ON BACK OF DOOR), mentally note where emergency exits/stairs are, and what can be used to shore up door/exit.
Try to stay relaxed but fully aware.
Keep taking any medications on schedule as usual, ensure pills are in original chemists package, not loose, in case of checkpoint search.
Cut back on alcohol, stay hydrated on bottled water (not tapwater). Ensure you have a quantity of low denomination notes.
During any State of Emergency. Do not identify your name and/or location on external social media feeds, such as facebook, snapchat, twitter etc., Do not publicly be critical, or comment on local politics, conditions, exercise extreme discretion.
Dump any surplus luggage, aim for carry-on hand luggage only. Conditions may quickly change at the airport if Emergency situation deteriorates.
Stay close to your party, at all times. Do not relax your own guard, until aircraft is out of Gambian controlled air space.
FOLLOW THE SECURITY SUGGESTIONS BELOW.
Ensure your contact numbers are known to your local holiday reps. and any new back up staff who have now arrived from the UK, and operating between the airport and hotel resort complexes.
Do not expect frequent (or any) updates as currently 3,000 people are involved in the evacuation, first tranche being flown out on five flights today, and more flights tomorrow - if overnight situation holds. Be ready to move quickly.
Make certain all members of your party are fully aware of any new developments.
Local sources are strongly suggesting that 'military operations' will be taking place after nightfall tonight. Political deadline is midnight Wednesday/Thursday.
______________________________________
+++ GAMBIA STATE OF EMERGENCY ALL UK HOLIDAYMAKERS ADVISED TO LEAVE IMMEDIATELY +++
THOMAS COOK [TC] are dispatching a special assistance team with their first evacuation flight from the UK, to provide additional support at Banjul airport for their customers. Within Gambia, local staff will proactively contact all TC customers on holiday as soon as possible to prepare for return to the UK.
Those UK customers due to fly to the Gambia in the coming days will no longer be able to travel until FCO advice changes.
If your travel plans are affected, please contact
Julian Bray Aviation Expert comments: Late last night (January17 2017)
the UK Foreign & Commonwealth Office changed its travel advisory for British travellers and holidaymakers for Gambia
suggesting that only essential travel to Gambia by British citizens

and that all others should immediately leave.

As a result a major air evacuation starts this morning (Wednesday) led by Thomas Cook airlines who are sending in empty aircraft from Manchester, Gatwick and Las Palmas to emergency evacuate their 985 holidaymakers and nearly 3,000 other UK passport holders in the Gambia.
ESSENTIAL SECURITY ADVICE from Julian Bray
A State of Emergency has been declared as a result the UK Government last night (Tuesday) changed its travel advice, as a result for your safety ALL future holidays to the West African Gambia have been cancelled, insurance bonding has also been activated.
Holidaymakers and travellers inside GAMBIA are strongly advised to urgently contact their holiday company, but do not travel independently to the airport, unless advised to do so. Independent travel inside Gambia may now also be unsafe or simply difficult.
Stay off the streets, stay inside your hotel and away from windows. Be fully aware of your surroundings. Snipers, gunmen and individuals with 'pangas' (large sharp knives) may be operating.
Recover passports, medicines and all travel documents from hotel safes, and rooms. Keep documents safely with you at all times.
YOUR HOLIDAY IS OVER. Be ready for a full emergency evacuation, at a moments notice. Do not consume alcohol, drink water ie stay hydrated and have bottled water handy, you may have to urgently react and think quickly - alcohol really doesn't help!
Ensure mobile phones are fully charged, have credit, and each member of your party has access to one and know all numbers. Keep none essential calls to a minimum.
UNDER NO CIRCUMSTANCES take pictures of military / police vehicles, mobs, groups, troops or checkpoints. Co-operate if challenged at checkpoints. Pack only essential clothing, discard whatever you can, as you may have to carry your own cases.
Be prepared to depart at a moments notice. Have your cases ready, you may at the last minute be required to dump or leave behind some of your luggage. Remember under State of Emergency conditions nothing is ever guaranteed or totally safe. Fully assist and co-operate with those who are trying to get you safely home.
____________________________
read more click on link:
It is thought that 2,500 independent travellers are also in the Gambia along with some 800 holidaymakers with other travel companies.
All British passport
holders are advised NOT to go to the airport but to urgently contact their airline or tour operator.
Intending (British Passport holders) holidaymakers to the Gambia are advised all holidays are cancelled and alternatives or cash refunds will be offered.
Peterborough based Thomas Cook issued a statement:

"The UK Foreign and Commonwealth Office (FCO) has this evening, 17 January, changed its advice on travel to the Gambia to advise against all but essential travel," Thomas Cook said.
"This is based upon the risk of unrest in the country as a result of the disputed presidential inauguration on 19 January.
"Thomas Cook has therefore implemented our contingency plans to bring all our UK customers home as soon as possible.
"We will operate a programme of additional flights into Banjul airport over the next 48 hours to bring the 985 UK customers we currently have on holiday in the Gambia home, including four additional flights on Wednesday 18 January.
"In addition, we have approximately 2,500 flight-only customers in Gambia, whom we are contacting to offer the earliest possible flight availability for return to the UK."
FCO TRAVEL ADVISORY
Click this link for latest update:
https://www.gov.uk/foreign-travel-advice/gambia
https://www.gov.uk/guidance/exceptional-assistance-measures-for-british-victims-of-terrorist-incidents-abroad
https://www.hrw.org/news/2017/01/05/gambia-arrests-media-closures-deadline-nears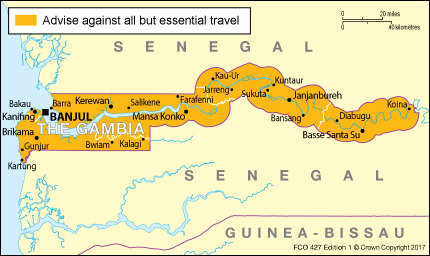 The Foreign and Commonwealth Office advise against all but essential travel to The Gambia due to ongoing political uncertainty and potential military intervention following the Presidential elections on 1 December 2016. If you're currently in The Gambia you should leave by commercial means if you have no essential need to remain.
The incumbent President, Yahya Jammeh, continues to contest the election results at the Supreme Court, while the President elect, Mr. Adama Barrow, has left the country. The Economic Community of West African States (ECOWAS) has stated it may intervene, including possible military action, if President Jammeh doesn't step down on the scheduled handover date of 18/19 January 2017.
This has led to intransigence on the part of the sitting government, resulting in reports that it has started to take restrictive measures, including shutting down opposition radio stations and making politically motivated arrests. The potential for military intervention and civil disturbance is high and could result in Banjul International Airport being closed at short notice.
You should follow events closely, take extra care, keep in regular contact with your tour operator and airline and continue to monitor travel advice and social media updates in case tensions rise as the current political deadlock continues. Avoid large crowds and avoid discussing politically sensitive topics in public. Read more about
how to be prepared in case of a possible crisis
There is an underlying threat from terrorism. You should be vigilant after recent attacks in Cote d'Ivoire, Mali and Burkina Faso, especially in places visited by foreigners. See
Terrorism
It hasn't always been possible for the British Embassy to gain early access to detained British nationals in The Gambia. If you're living in The Gambia, you should contact the
British Embassy
who will be able to advise on how to contact consular staff in the event of an emergency.
Some foreign nationals have been detained by the police in relation to homosexuality and there has been a recent increase in inflammatory homophobic rhetoric across the country. See
Local laws and Customs
There are a number of checkpoints operating in and around the capital. Expect your vehicle to be searched if you're stopped by security forces.
Most visits to The Gambia are trouble-free although independent travellers are at increased risk due to the lack of local support in an emergency. If you're travelling independently, make sure next of kin in the UK have details of your itinerary and keep in regular touch. Take out comprehensive
travel and medical insurance before you travel
.
The Gambia has provision in law for the implementation of the death penalty for a number of crimes including arson, murder and treason. See
Local laws and Customs
Gambian President Yahya Jammeh declared a state of emergency on Tuesday after refusing to hand power to opposition leader Adama Barrow, who won an election last month [reports Reuters].
State television said the emergency would prevent a power vacuum while the supreme court rules on Jammeh's petition challenging the election result.
That suggests Jammeh will stay in power beyond Thursday, when Barrow was due to have been sworn in as president.
Regional leaders have threatened to intervene militarily if Jammeh does not step down and on Tuesday a senior Nigerian army source said Nigeria and other West African states were preparing a military force.
"I ... hereby declare a state of public emergency throughout the Islamic Republic of Gambia," Jammeh's declaration said.
The state of emergency banned "acts of disobedience" and "acts intended to disturb public order".
Barrow is not intimidated by the state of emergency, a spokesman told Reuters. He declined to comment on whether the inauguration would proceed on schedule.
Jammeh took power in a coup in 1994 as only the second president since Gambia's independence in 1965 and his government gained a reputation for torturing and killing perceived opponents, rights groups say. In 2015, he declared that the country was an Islamic Republic.
Pro-democracy activists across Africa welcomed his defeat, and his refusal to step down has provoked an internal crisis as well as a test of mettle for regional leaders.
Gambia's top judge on Monday declined to rule on Jammeh's election petition and in a political blow to the president, the ministers of finance, foreign affairs, trade and the environment have resigned, according to ministry sources.
The Nigerian source said that defence chiefs of staff of West African countries met on Monday to discuss strategies to remove Jammeh.
"Some West African countries will be contributing troops, including Nigeria, for the operation," said the source, adding that the United Nations and African Union had offered support to regional body ECOWAS for the plan.
State television said on Monday Finance Minister Abdou Kolley was being replaced by Benjamin Roberts, the minister of tourism. Finance ministry sources said on Tuesday Roberts had also resigned.
Ministry sources said other government figures, including Foreign Minister Neneh Macdouall-Gaye, had left the government and the country. The mayor of the capital Banjul has also resigned, according to sources at the city council.
Hundreds of Gambians have fled to Senegal, Gambia's only neighbour, fearing for their safety because of the turmoil, and Senegalese authorities have increased security. Barrow is also in Senegal, his aides say.
"We are scared. There are soldiers with guns all the time," said Awa Sanneh, 25, from Birkama in Gambia, who was leaving with two children and 24 other family members.
Gambia, one of the smallest countries in Africa, relies on tourism and one main crop, peanuts, to fuel its economy.
https://www.gov.uk/foreign-travel-advice/gambia
JULIAN BRAY +44(0)1733 345581 Aerospace & Incident Management Expert, Journalist & Broadcaster, Aviation Security & Airline Operations, Travel / Maritime & Cruise Industry, NUJ, EQUITY, LIVE ISDN LINK, Broadcast ISDN COOBE ++44 (0)1733 345020 e&oe Old faithful NOKIA: 07944 217476 www.aviationcomment.com