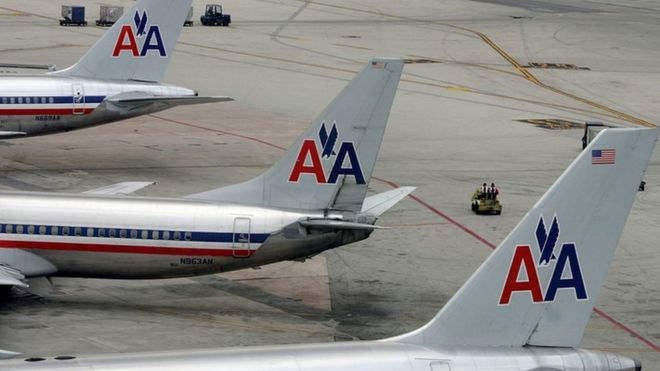 American Airlines has suspended an employee from duty after a tussle over an infants pushchair in San Francisco.
A passenger armed with a cameraphone uploaded video of the fallout from the incident. The passenger Surain Adyanthaya said a mother holding an infant to here chest had been struck with the pram as it was being forcibly removed by the employee.
It then goes from bad to worse as the video posted on Facebook records the employee saying, "Hit me! Come on, bring it on", when challenged by another male passenger.
Julian Bray Broadcaster and Aviation Expert comments: "Sadly we are likely to see more of this type of boorish behaviour as support functions servicing fleet aircraft at airports are increasingly outsourced to specialist sub contractors and contract workers; employees directly coming into contact with airline passengers therefore may not be direct employees of the airline and put through detailed customer care programmes.
There is also a time target mentality as employees/ sub-contractors face commercial penalties if the aircraft turn around exceeds agreed limits."
American Airlines PR department swung into damage limitation mode saying it was "deeply sorry for the pain we have caused" [to the woman passenger and her family].
The incident follows another widely reported incident on a United Airlines plane two weeks ago, when a passenger, a still practicing medical doctor of pensionable age was violently removed from a fully booked flight (it was NOT OVERBOOKED) as United wanted to clawback 5 seats for a flight crew transiting to the destination airport to pick up an aircraft needing a crew .
This latest incident now involving American Airlines incident unfolded at San Francisco International Airport as AA flight 591 prepared to take off for Dallas/Fort Worth.
Passenger Surain Adyanthaya, who posted the video to Facebook, said that preceding the footage the employee had "violently" taken the pram from the mother, hitting her and narrowly missing her baby. The Facebook posted footage shows the mother clearly distraught as other employees and passengers try to intervene.
One male passenger demands the name of the employee involved and when a man dressed in American Airlines uniform enters the plane, the passenger tells him: "Hey, bud, you do that to me and I'll knock you flat."
The employee confronts the passenger, telling him to "stay out of this", then saying: "Hit me! Come on, bring it on."
He adds: "You don't even know what the story is."
The passenger replies: "I don't care what the story is. You almost hurt a baby."
Source: BBC NEWS, AP, CNS