Julian Bray Aviation Expert and Journalist writes: Opening your own alcoholic drinks possibly purchased from the duty free outlet at the departure airport is banned on aircraft, as you are only allowed to consume alcoholic drinks provided for sale or on free dispense by the airline.
It is true to say that every airline in the world has suffered at one time or another from air rage possibly caused by 'drunks on a plane.'
Ryanair after a series of incidents went a step further to try to stop that rule being broken and early on in the debate over 'duty free', Ryanair passengers enroute to (or returning from) Ibiza had their airport purchases of alcohol in bottles and packages taken from them and safely stored in the hold for the duration of the flight.
That initial stance has now gained widespread acceptance and has led to a call by an aviation trade organisation for the Air Navigation Rules to be changed. The only problem is that to impose a blanket ban on ground-side purchased alcohol is virtually unworkable, and will lead to extended check-in and departure times and greatly undermine the revenues flowing into airport operators in terms of shop rentals. In extreme cases, some airport terminals may be forced to close down or hike up airport tax or levy on individual flyers.
The argument is that some of these alcoholic packages from airport duty free shops are being covertly opened in flight (stag and hen groups are particularly singled out). Its claimed that covert drinking by these and other individuals coupled with the dehydration effect of pressurised air cabins and re-cycled air, rapidly enhances the effect of even a small amount of alcohol.
Cabin crew mentally keep tabs on their customers and will often refuse to serve passengers who appear to be drunk or simply not coping. It could also be medications mixed with alcohol and the effects of pressurised cabins are to also blame.
Some specialists even claim that it would handsomely pay the airlines to place a complimentary bottle of water in the pocket of every seat before passengers board.
The natural instinct would be for passengers to open and drink the water before the alcoholic drinks are served or airport purchased covert alcohol is prised open, and where the passenger has already pre-loaded at the airport, effectively water down the strength and effect.
The UKs' Civil Aviation Authority (CAA), says that cabin air pressure when flying effectively thins the blood. The knock-on effect of alcohol is therefore more dramatic and immediate.
But some experts ( Where would we be without experts?) still aren't convinced. They suggest you may feel drunk because flying conditions mean less oxygen reaches your brain.
However you look at it, the end result is the same, less alcohol consumption in flight will help cut down the number of passengers deplaned at an unscheduled foreign airport, possibly thrown into a foreign jail overnight and up before local courts, fined, facing a worldwide air travel ban and left to their own devices to find a way back home where UK police will be waiting and may possibly also join in the fray and take legal criminal action.
Airlines are also keen on taking legal action in the UK and at destination countries, to fully recover the extras costs of diverting an aircraft, these include fuel used and emergency landing charges, aircraft hire for time diverted and effectively time denied to the operator.
None of this will be covered by travel insurance and a flight ban could last a lifetime. It not a cheap option either a fine of 25,000 euros and additional fines in the UK blew a hole of around £35,000 in onwe drunks bank balance and he still cannot fly anywhere!
Passengers in flight will find that technically there's no set age restriction on buying alcohol. Airlines will however be guided by local laws and customs for example America sets an age of over 21, whereas the UK has an 18 years or over threshold for the purchase of alcohol.
The captain of the aircraft is in legal terms under the Air Navigation Orders dubbed 'the commander', he can at any time devolve absolute powers to his crew.
Recent incidents over overbooking have been highlighted with passengers being bumped, but the moment a commander decides he/she needs that seat back, or for any reason that the person off the aircraft for whatever reason, there is no legal comeback.
Although is certain circumstances compensation is payable. Simply the passenger is from that moment, declared not legal on board!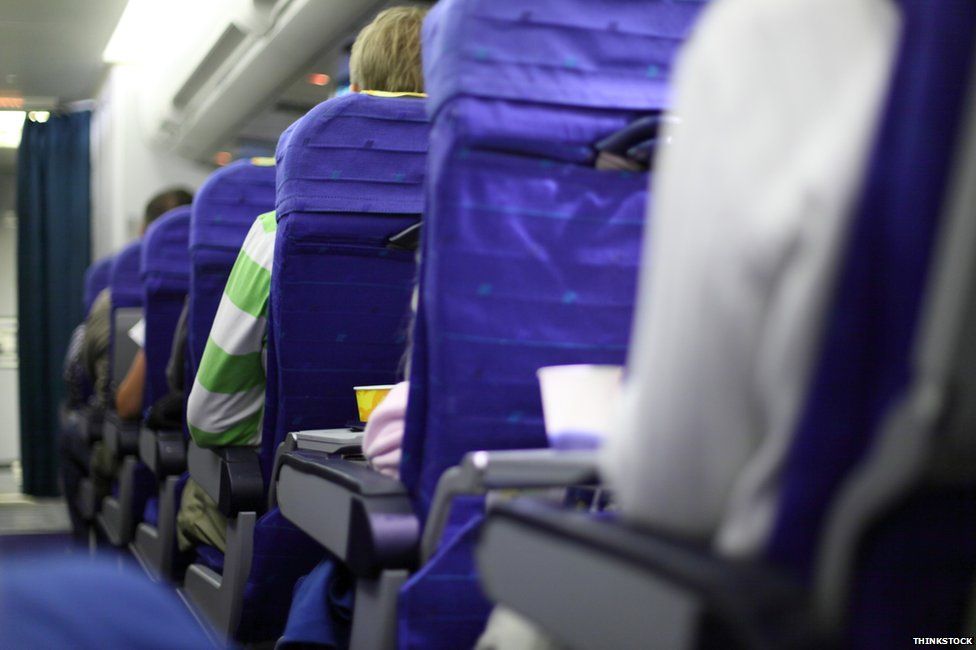 If the plane's already taken off it could be diverted lands and rowdy passengers escorted off by local police or military police on landing.
There are no limits on alcohol bought for personal use if you're travelling within the EU (although you might be taxed if you have a lot). From anywhere else in the world, the limit depends on the type of drink.
Beer it's 16 litres and for Wine (not sparkling), four litres. You can also bring one litre of spirits or liquors over 22% strength or two litres of fortified wine, sparkling wine and weaker alcohol.
However most airlines won't let you carry more than five litres or alcohol stronger than 70%.
JULIAN BRAY +44(0)1733 345581, Journalist & Broadcaster, Aviation Security & Airline Operations Analyst/expert,
www.freelancedirectory.org?name=Julian.Bray.aviation.comment
Travel / Maritime & Cruise Industry, NUJ, EQUITY, LIVE ISDN LINK, Broadcast ISDN COOBE ++44 (0)1733 345020 e&oe Old faithful NOKIA: 07944 217476
www.aviationcomment.com