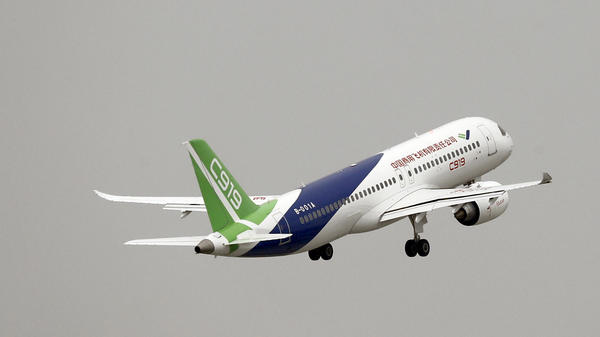 China, has completed the maiden flight of its LEAP technology Turbojet passenger jetliner.
Dubbed the COMAC C919, manufactured by the publicly-owned Commercial Aircraft Corp. of China Ltd., or Comac, took off from Shanghai's Pudong International Airport.
Observers expect the aircraft to eventually compete with the Airbus A320 and Boeing's 737. The narrow-body market now accounts for more than half of the aircraft in scheduled service worldwide. The adoption of western developed LEAP technology, will ensure it not only economically consumes fuel but has a very low noise profile.
Its development has however, been beset by problems at many different stages.
It was first expected to be in the air four years ago, and in service with airlines and leasing companies by 2016. The delays were attributed to manufacturing issues, but the thin lipped spokesman says Comac are 'looking forward' to a brighter future.
Speaking to AP,
Bao Pengli, deputy director of Comac's project management department, said "Thursday the manufacturer planned to make two planes a year from now to 2019 to obtain proof of safe flight, before any mass production would be started.
"Comac says it has 570 orders, mostly from state-owned Chinese airlines. A total of 23 domestic and foreign customers have placed orders. The handful of foreign customers includes GE Capital Aviation Services and Thailand's City Airways. "The plane can come with 155-175 seats and has a standard flight length of 2,530 miles."
Over the next twenty years, the global jet market is estimated to be worth $2 trillion and clearly China has eyes on part of it.
JULIAN BRAY +44(0)1733 345581, Journalist & Broadcaster, Aviation Security & Airline Operations Analyst/expert, www.freelancedirectory.org?name=Julian.Bray.aviation.comment Travel / Maritime & Cruise Industry, NUJ, EQUITY, LIVE ISDN LINK, Broadcast ISDN COOBE ++44 (0)1733 345020 e&oe Old faithful NOKIA: 07944 217476 www.aviationcomment.com