Obituary: Hugh Hefner
Julian Bray recalls his time on Heffs Big Black Bunny DC9 assisted by playmate Barbie Benton
Julian Bray writes: I well remember BBC Radio 2 Late Night Extra Producer Chris Searle ( Searle was later move to TV and one of the stars of That's Life) telephoning to say I should investigate reports of a big black bunny in the VIP area of Heathrow Airport. It was of course Hugh Hefner's huge DC9 aircraft decked out in late 60's luxury and waiting to greet me was Playboy Playmate Barbie Benton his then close companion and in charge of the Big Black Bunny on its trip to London. She graciously welcomed me on board as we walked the length of the 'plane. It was difficult to miss the fur covering on the huge oval double bed, naturally it too had a safety belt with a huge buckle in the middle. Bathroom arrangements were interesting, with what was a first for me...
Barbie Benton claimed that literally everything was done together, hence the twin loos side by side... Heff liked his stewardesses properly dressed, the uniform was a wet look leather sculpted costume draped around the aviation bunnies.
As if on a mission, Barbie expertly guided me back to the bedroom.
We had missed Heffs pride and joy! The recessed professional cinema 35mm film widescreen projector and the library of first run films in metal canisters!
Clearly you need something to while away the long hours at 35,000 feet when snuggled down and strapped into the bed (for safety reasons) with a playmate - or two.
No contest, it would be the best that Warner Brothers had to offer on the not so big screen at the end of the oval bed and the sound pumping out of eight stereo hidden speakers, bliss.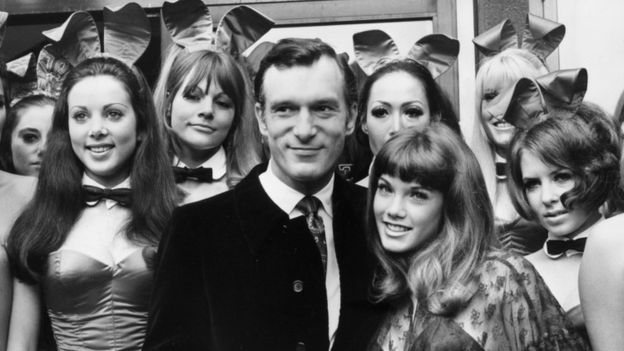 Heff with his then girlfriend Barbie Benton on a visit to London
For some 20 years, Playboy Magazine dominated its market, with circulation peaking at over seven million in the early 1970s, a survey suggested that a quarter of all male college students in America were buying the magazine. It contained the finest contemporary writing in the magazine market, with Saul Bellow, Arthur C Clarke, Norman Mailer and Gore Vidal were among the regular contributors.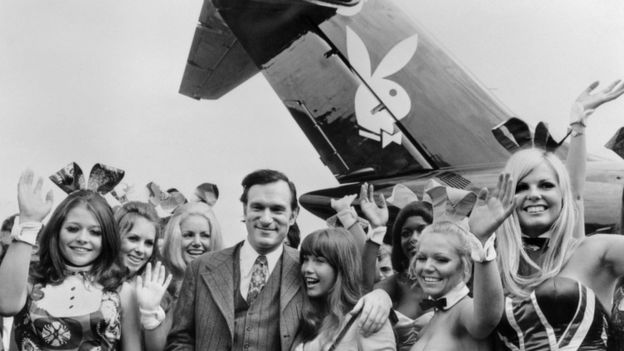 Heff at London Heathrow Airport in the early 1970's with his arm around girlfriend and playmate Barbie Benton surrounded by UK Playboy Club bunnies..
As the excellent BBC obituary says: At this time Hefner was living a life of luxury and indulgence in his two Playboy mansions, accompanied by an ever-changing cast of celebrities and pneumatic girlfriends, and shuttling between them in his personalised DC9, the Big Black Bunny.
But few hacks in the UK can say they were shown Heffs twin holed loo.
'Its a little hidded' chirped Barbie, even she was lost for words, as was Late Night Extra producer Chris Searle..."We'll run the tape as it is, all 20 minutes of it, no edits, just as you Julian recorded it, a full UHER tape spool and we'll back it with a Woolworths recording of a distorted violin playing 'A Pretty Girl Is Like a Melody'
Presenter John Benson just threw his script in the air, and walked out of the gallery...muttering darkly.
Hopefully the programme audio recording has been preserved somewhere.
Should also mention, t

he other BBC radio news reporter on duty that night during the 'Late Night Extra' programme was a young chap, by the name of John Simpson. Wonder whatever happened to him?
JULIAN BRAY +44(0)1733 345581, Journalist & Broadcaster, Aviation Security & Airline Operations Analyst/expert, ... Travel & Holiday Guru www.aviationcomment.com, ... http://www.freelancedirectory.org/user.php?user=8121 ... www.freelancedirectory.org?name=Julian.Bray.aviation.comment, ... Aviation / Travel / Maritime & Cruise Industries, NUJ, EQUITY, LIVE ISDN LINK, Broadcast ISDN COOBE ++44 (0)1733 345020 ... SKYPE: JULIAN.BRAY.UK e&oe Old faithful NOKIA: 07944 217476